Coalition hits Gaddafi's control centre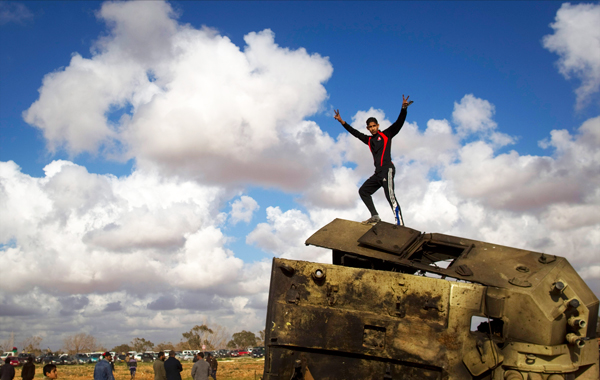 An airstrike against an administrative building in a compound including Moamer Gaddafi's residence in Tripoli destroyed the Libyan leader's "command and control capability," a coalition official told AFP Sunday.
"The coalition is actively enforcing UNSCR (UN Security Council Resolution) 1973, and that in keeping with that mission, we continue to strike those targets which pose a direct threat to the Libyan people and to our ability to implement the no-fly zone," the official added.
The building, which was about 50 meters (165 feet) from the tent where Kadhafi generally meets guests, was flattened.
An AFP journlalist meanwhile Sunday saw smoke billowing from the residence and barracks at Bab el-Aziziya in the south of the Libyan capital as anti-aircraft guns fired shots.
The US military earlier Sunday said Allied strikes had crippled the air defenses of Kadhafi's embattled regime and a no-fly zone had been successfully enforced over the country.
Defense Secretary Robert Gates and top brass indicated that the American military would now look to take a back seat and warned the coalition against mission-creep, in particular against directly targeting Kadhafi.
"We judge these strikes have been very effective in significantly degrading the regime air defense capability," Vice Admiral Bill Gortney told a Pentagon briefing. "The no-fly zone is effectively in place."
French, American and British forces have launched the biggest intervention in the Arab world since the 2003 US-led invasion of Iraq, firing more than 120 Tomahawk Cruise missiles and conducting bombing raids on key Libyan targets.
Asked about remarks by British counterpart Liam Fox suggesting targeting Kadhafi himself, Gates said the allied operation should stick to the parameters as authorized by the United Nations in a vote last Thursday.
"I think that it's important that we operate within the mandate of the UN Security Council resolution," he said.
Gates, who was speaking on a US military plane en route to Russia, said the intervention was backed by "a very diverse coalition" and warned that expanding its goals could divide that consensus.
"If we start adding additional objectives then I think we create a problem in that respect," he said. "I also think it's unwise to set as specific goals things that you may or may not be able to achieve."
US President Barack Obama and Secretary of State Hillary Clinton, as well as other Western leaders, had been saying Kadhafi must go.
Such calls have been drying up as signs of divisions emerge in the coalition with the head of the Arab League suggesting Sunday that the strikes had over-reached the UN mandate.
The Pentagon dismissed reports from Kadhafi officials that the allied strikes had claimed innocent lives, saying there was no indication of any civilian casualties but confirming dozens of regime forces had been killed.
Chairman of the Joint Chiefs of Staff Admiral Mike Mullen said the strikes had stopped Kadhafi's forces in their tracks and the aim now was to cut off their logistical support.
Mullen admitted the next steps in the process were murky, providing fresh fodder for Obama opponents who accuse him of failing to adequately set out the goals of the Libya mission.
"What we do will depends to some degree on what he (Kadhafi) does," Mullen told Fox News Sunday.
Pressed on CBS's "Face the Nation" about the endgame, he said that was "very uncertain" and indicated it would ultimately be up to other members of the coalition, rather than the United States, to decide what action to take.
"It's hard to know exactly how this turns out. He's a thug; he's a cagey guy; he's a survivor. We know that," Mullen said.
"I can't say exactly how long... the military part of this will be in effect and I think it's for others to determine where this goes long-term."
Obama has vowed that US troops will not be deployed on the ground but leading Republican critic John Boehner, the Speaker of the House of Representatives, called for further clarity.
"The president is the commander-in-chief, but the administration has a responsibility to define for the American people, the Congress, and our troops what the mission in Libya is, better explain what America's role is in achieving that mission, and make clear how it will be accomplished," he said.
Follow Emirates 24|7 on Google News.