EgyptAir carried out 90-degree and 360-degree turns before crash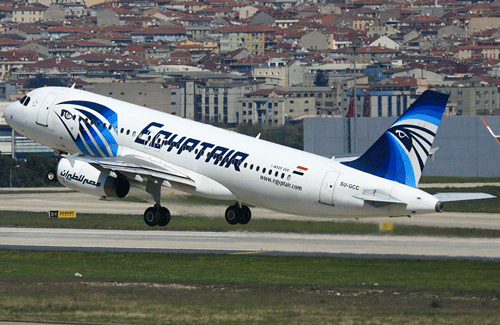 An EgyptAir flight lost early Thursday over the eastern Mediterranean with 66 people on board fell 22,000 feet and swerved sharply in Egyptian airspace before it disappeared from radar screens, Greece's defence minister said.
"The plane carried out a 90-degree turn to the left and a 360-degree turn to the right, falling from 37,000 to 15,000 feet and the signal was lost at around 10,000 feet," Defence Minister Panos Kammenos told a news conference.
"At 3.39am the course of the aircraft was south and south-east of Kassos and Karpathos (islands)… immediately after it entered Cairo FIR and made swerves and a descent I describe; 90 degrees left and then 360 degrees to the right," Defence Minister Panos Kammenos told a news conference.
Greek authorities had mounted a search in the area south of the island of Karpathos without result so far, he said.
Timeline of missing Egyptair aircraft
Greece's civil aviation department issued a timeline on Thursday of the missing EgyptAir plane's journey over Greece before it disappeared in Egyptian airspace.
Times are local. Greece is three hours ahead of GMT.
02:24 - EgyptAir flight 804 from Paris to Cairo enters Greek airspace, air traffic controller permissions it for the remainder of its course.
02:48 - The flight is transferred to the next air traffic control sector and is cleared for exit from Greek airspace. "The pilot was in good spirits and thanked the controller in Greek."
03:27 - Athens air traffic control tries to contact the aircraft to convey information on the switch of communications and control from Athens to Cairo air traffic.
In spite of repeated calls, the aircraft does not respond, whereupon the air traffic controller calls the distress frequency, without a response from the aircraft.
03:29 - It is above the exit point (from Greek airspace).
03:39:40 - The aircraft signal is lost, approximately 7 nautical miles south/southeast of the KUMBI point, within Cairo FIR.
Immediately the assistance of radars of the Hellenic Air Force is requested to detect the target, without result.
03:45 - The processes of search and rescue are initiated, simultaneously informing the Flight Information Region of Cairo.
Follow Emirates 24|7 on Google News.