Emirati diver conquers sea…and social barriers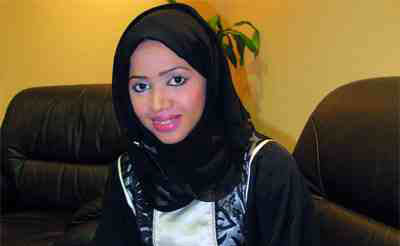 Khawla Ahmed Khamis of Dubai had never thought she would become an experienced diver as she had not known how to swim. The 24-year-old woman is now a trained diver and is unusually encouraged by her father.
A mother of two girls, Khawla belongs to an 18-member family and seven of her sisters are also good divers.
By embarking on such a daring and risky hobby, Khawla has not only conquered the sea but long-standing social barriers that have kept native women away from many activities mistakenly deemed fit only for men.
Through her adventures beneath the azure Gulf water, Khawla has developed extraordinary skills how to deal with dangerous sea animals and has learned what she described as a very important fact-- that marine creatures could be friendly and harmless unless attacked.
"Most girls in the UAE still shy away from diving because their families either do not what them to be divers or do not allow them to be trained by men in the absence of female trainers," she said.
"My sister was trained by a male diver-- Captain Mohammed Issa…she has obtained a licence in diving and this has opened the door for other sisters and many other girls to have diving lessons."
Quoted by 'Emarat Al Youm' newspaper, Khawla said seven of her sisters are trained divers and that they are encouraged by their father, mother and brothers to dive and engage in many other activities considered by some as "taboo" for women in the country.
"My father is a retired military man…he and my brothers have played a major role in helping me break the fear barrier and shoulder responsibility."
Khawla said she had fathomed a large part of the UAE territorial waters, adding that they are rich in fish wealth.
"I have seen numerous types of sea creatures in the UAE coastal areas and they are all not dangerous or hostile…actually, they could be harmless and friendly to humans as long as they do not hurt them," she said.
"My advice to divers is that they should not make a sea creatures feel afraid of them because fear of confusion could prompt a whale or a shark to think that they will be attacked, so they attack first to defend themselves."
Khawla is a holder of a business administration diploma from the college of higher technology and works at Dubai Municipality. She said she had never been interested in diving because she did not know how to swim.
"Once my brother encouraged me and started pushing me to learn swimming and diving….my brother is a good diver and he told me that diving has a special taste and helps bring tranquillity to people," she said.
"He was right…I myself found driving a real fun, a break from routine and an exceptional haven away from the concerns and pressures of the modern life."
Follow Emirates 24|7 on Google News.