Gaddafi's departure dominates Africa summit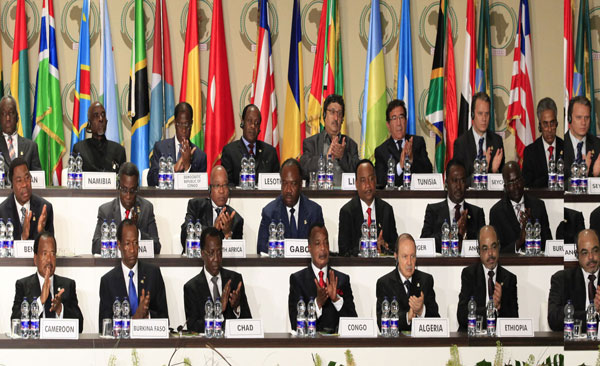 African Union talks on a plan to end the Libyan conflict were suspended early Friday with no agreement as the rebels insisted that Moamer Gaddafi had to quit for any attempt at a political solution.
African leaders sought backing for their roadmap at closed door talks on the first day Thursday of their summit in the Equatorial Guinea capital, where delegations from the rebels and Gaddafi's regime were present.
The meeting broke up at about 1:00 am and was due to convene again at 10:00 am (0900 GMT; 1pm UAE time), officials said.
The plan envisages a ceasefire, humanitarian aid, a transition period, reforms towards democracy and elections, but the details and the position of Gaddafi have not been made clear.
The rebels insisted outside of the talks that Gaddafi had to quit after more than 30 years in power. "He must leave," National Transitional Council representative Mansour Safy Al-Nasr told journalists.
Asked if he thought the conflict would be ended through a political or a military means, he said: "We are ready for anything."
The rebels were prepared to end hostilities i f Gaddafi left, he said.
"If we see that Gaddafi withdraws, we are ready to stop and negotiate with our brothers who are around Gaddafi," he said.
But the rebels would not retreat, "not this time", he said.
"If military operations advance to surround Tripoli, he will accept (to leave).Gaddafi is isolated. He is in his bunker. He cannot move, he does not have a life," Al-Nasr said.
"The troops are advancing," he added, referring to Libyan rebel forces.
Al-Nasr said Thursday there was broad agreement at the summit that Gaddafi had to go. "Some say it publicly, others don't," he told AFP.
Senior Libyan rebel leader Mahmud Jibril said in Vienna meanwhile he awaited "a clear stance" from the African Union on whether it supported or condemned Gaddafi.
The International Criminal Court issued an arrest warrant for the Libyan leader last week for atrocities in the crackdown on the uprising against the regime.
"These arrest warrants reflect the international conviction that massacres did take place," Jibril told journalists. "I urge the African Union to take a clear stance," he said.
The African Union has said the warrant complicated its attempts to find a way out of the conflict.
It has also been critical of France's supply of weapons, adding to early complaints about NATO-led bombing campaign against Libyan forces that is meant to protect civilians.
The African Union must bear in mind in its talks the "suffering of the Libyan people because of the continuing clashes and the air bombing operations," African Union Commission chairman Jean Ping said at the start of the summit.
Follow Emirates 24|7 on Google News.