Gaddafi troops take oil town of Brega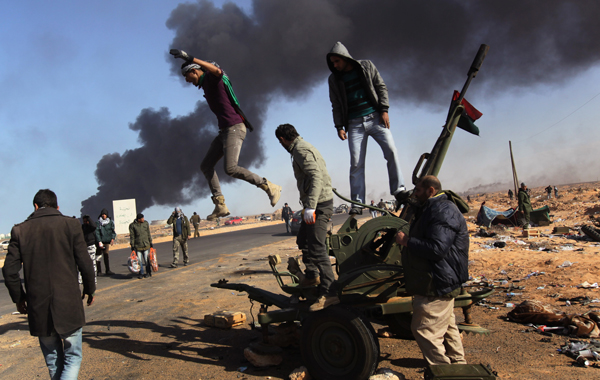 Muammar Gaddafi's troops battled rebel fighters for control of the strategic Libyan oil town of Brega on Sunday, as France promised to push harder for a UN-backed no-fly zone over the country.
Government troops advancing east along the coast road took Brega early on Sunday in what looked like an increasingly confident drive towards the rebel stronghold of Benghazi.
But the rebels, inspired by the overthrow of the Tunisian and Egyptian presidents to try to end Gaddafi's four-decade rule, said they had re-taken Brega on Sunday night. There was no way of verifying the rival claims.
The government, whose forces had previously captured Ras Lanuf, another oil town 100 km west of Brega, said earlier it was certain of victory and threatened to "bury" the rebels, whom it linked to al Qaeda and "foreign security services".
Gaddafi himself met the Russian, Chinese and Indian ambassadors and urged their countries to invest in Libya's oil sector, badly disrupted by the uprising and the flight of tens of thousands of expatriates oil workers.
Libyan oil exports have been badly disrupted by the fighting, lack of staff, international sanctions and the refusal of international banks to fund trade deals. Some experts say it may take a year for output to recover to its previous level of about 1.6 million barrels per day.
International crude prices fell by about $1 a barrel <LCOc1> <CLc1> on Gaddafi regaining territory over the weekend.
On the diplomatic front, France said it would step up efforts to persuade world powers to impose a no-fly zone over Libya. It said the Arab League's weekend call on the United Nations to impose such a zone showed the world's concern for Libyan civilians.
More on Middle East unrest: [nTOPMEAST] [nLDE71O2CH]
Western leaders call for Gaddafi to go [ID:nLDE71Q0L4]
Views on no-fly zone [ID:nN07104768]
Western forces in region
Latest graphic:
Interactive factbox
Time however is short for ill-equipped rebels facing far superior firepower, including warplanes and helicopters.
The Libyan government said it would welcome an African Union panel to try to help resolve the crisis, but condemned the Arab League call for a no-fly zone, describing it as "a dangerous act for Arab security that only serves the Zionist enemy".
France said it would consult other powers "in the coming hours" to try to set up such a zone "to assure the protection of the civilian population in Libya ... in the face of the terrible violence suffered by the Libyan population."
France hosts a Group of Eight foreign ministers' meeting on Monday and said they would discuss the situation in Libya.
ARMY SAYS CAPTURED BREGA
A Libyan government army source told state television on Sunday morning: "Brega has been cleansed of armed gangs," and rebel fighters retreating eastwards were demoralised.
"There's no uprising any more," said rebel Nabeel Tijouri, his heavy machinegun destroyed in the fighting. "The other day we were in Ras Lanuf, then Brega, the day after tomorrow they will be in Benghazi."
Brega is 220 km (135 miles) south of the rebel stronghold of Benghazi and Ajdabiyah is the only sizeable town between them.
The flat desert terrain means the government's aircraft and tanks outweigh the rebels' enthusiasm and light weaponry, except in towns where the odds against the rebels are reduced.
State television carried a confident official message. "We are certain of our victory, whatever the price," it said.
"Those acts of division will be buried together with those who committed them, who are linked to foreign security services and the terrorist organisation al Qaeda," it said.
But on Sunday night, rebel media officer Mustafa Gheriani told reporters in Benghazi the rebels had retaken Brega, killed 25 Gaddafi fighters and taken 20 prisoners of war.
"Tonight it (Brega) is back in the hands of the revolutionaries, but they will probably come back tomorrow with big machines, bomb it and take it back again," Gheriani said. "This is a war of resolve and the resolve of his (Gaddafi's) people is breaking down."
Rashid Khalikov, the U.N. humanitarian coordinator for Libya, said in an interview he wanted unimpeded access:
"The situation is changing from one day to another," he said. "The main concern is to find out what's going on, which we don't know...The civilian population is suffering a lot."
The United States said the Arab League's call for a U.N. no-fly zone to protect Libyan cities was an "important step", but Washington remained cautious about military intervention.
Arab support satisfies one of three conditions NATO set on Friday for it to police Libyan air space. The others are proof that its help is needed, and a U.N. Security Council resolution.
Even if the Security Council meets to discuss a no-fly zone, it is far from clear whether it would pass a resolution as veto holders Russia and China have both publicly opposed the idea.
MUTINY?
The Libyan conflict has escalated from a popular uprising similar to protests that toppled the leaders of Tunisia and Egypt and have shaken other countries in the region. It is now more akin to a civil war.
Protests in the capital have stopped.
Human Rights Watch said "Gaddafi and his security forces are brutally suppressing all opposition in Tripoli -- including peaceful protests -- with lethal force, arbitrary arrests, and forced disappearances."
Fresh from crushing the revolt in Zawiyah, west of Tripoli, elite government troops and tanks turned to Misrata, Libya's third biggest city with 300,000 people and the only pocket of rebel resistance outside the east.
Rebels said a mutiny among government troops stalled their advance on Sunday for a second day, but this was impossible to confirm independently.
"From the early morning they (government troops) are fighting each other. We hear the fighting," rebel fighter Mohammed told Reuters by telephone. "This division between them came to us from God ... Now we are waiting to see what happens."
Journalists have been prevented from reaching the city by the authorities. The government dismissed the reports as rumours and said there were al Qaeda fighters in Misrata.
Follow Emirates 24|7 on Google News.