Gaddafi welcome to retire in Libya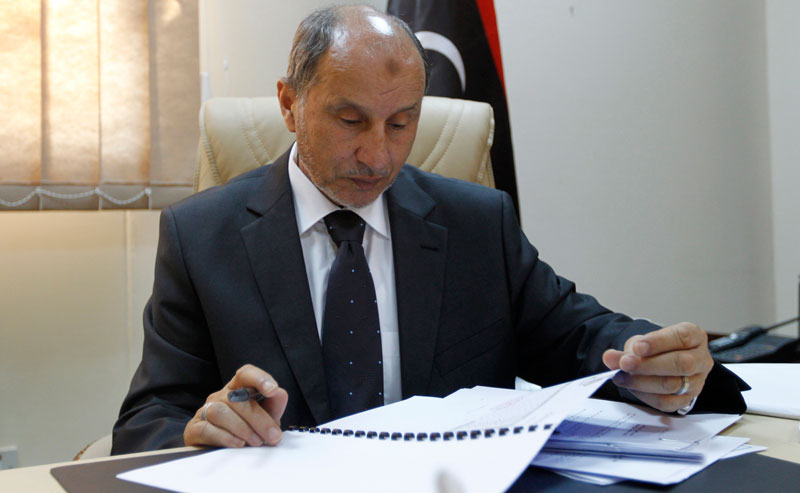 Libya's rebel chief told Reuters on Sunday Muammar Gaddafi was welcome to retire on Libyan soil as long as he resigns formally and agrees to international supervision of his movements.
Libyan rebels and their Western allies have rejected any solution to the conflict that does not include Gaddafi's resignation, saying he must quit before any peace talks can begin.
Gaddafi has fiercely resisted all international calls on him to go, vowing to fight to the end.
Speaking in his stronghold of Benghazi, rebel leader Mustafa Abdel Jalil -- Gaddafi's former justice minister -- said he made the proposal about a month ago through the United Nations but had yet to receive any response from Tripoli.
"As a peaceful solution, we offered that he can resign and order his soldiers to withdraw from their barracks and positions, and then he can decide either to stay in Libya or abroad," he said in an interview.
"If he desires to stay in Libya, we will determine the place and it will be under international supervision. And there will be international supervision of all his movements," he said.
He added: "We offered this through a U.N. envoy. We haven't received any answer." He said the rebel council believed Gaddafi could be held in a military barracks or "a civilian building" in Libya, but gave no details.
There was no immediate reaction from Tripoli to Abdel Jalil's remarks but Gaddafi has so far shown no sign of backing down. He says he is the legitimate leader of the North African nation and will not leave Tripoli without a fight.
The conflict appears to be deadlocked both militarily and politically despite moves by Western powers to step up their bombing campaign against Gaddafi's installations across the desert country.
With the war dragging into a fifth month, there have been moves by some nations to try to mediate a face-saving solution that would suit both the rebels and the Tripoli government. So far these initiatives have failed.
Escalating his rhetoric, Gaddafi has threatened to attack Europeans in their homes in response to NATO air strikes.
The rebels in Benghazi, a Mediterranean city now festooned with NATO and Libyan monarchy-era flags, say the end to Gaddafi's 41-year rule is near.
Sitting underneath a giant rebel flag in his modestly furnished office in central Benghazi, Abdel Jalil was unfazed when asked if he saw himself as Libya's future leader.
"No. I don't hope to be in this position. I am here for the transitional period," he said. "The leader will be decided through elections. And I don't intend to run myself."

REBEL VISION
The soft-spoken Abdel Jalil earned the respect of many east Libyans for opposing Gaddafi's harsh line against political opponents.
He resigned from his ministerial post at the start of the revolt over what he saw as the excessive use of violence against protesters rallying against the veteran Libyan leader.
Seen also as a consensus builder who has leaned towards talks before, he said the rebel authority was determined to give negotiations a chance.
"We welcome political solutions to stop bloodshed and avoid any further devastation and damage for the country," said Abdel Jalil. "But if we find no solution then we will focus on military action."
Outgunned by Gaddafi's better-equipped troops, rebel forces have struggled to make progress in past weeks but managed to advance briefly to within 80 km (50 miles) of Tripoli before being forced into a retreat on Friday.
Rebels say they see no settlement under which Gaddafi or his entourage would be allowed to stay in Libya's political arena after four decades of what they describe as severe repression and abuse of basic human rights.
Jalil said his vision for a new Libya involved building a democratic state that was respectful of its Islamic traditions.
He said he was determined to lead the country towards a post-transitional period when Libyans would be able to choose their new leader through free and fair elections.
"Libya will be a free, democratic Islamic country," he said. "It will be run in accordance with the moderate standards of Islam, it will ban murder of civilians and will not rob people of their money."
Follow Emirates 24|7 on Google News.