Ghost hunting couple found dead in apartment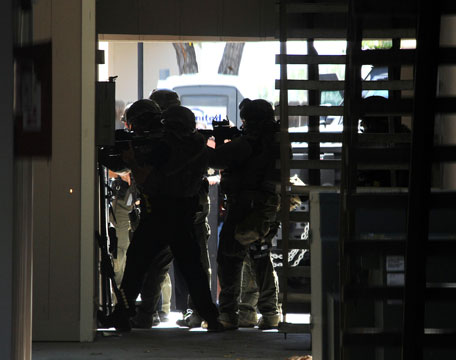 Police stormed a Nevada apartment after a standoff and found a Nevada couple who appeared as ghost hunters in the reality television show 'Ghost Adventures'.

Mark and Debby Constantino were found dead Tuesday in a barricaded Sparks apartment. Officials weren't releasing a cause of death.

The couple was featured in recent years on the Travel Channel's series, including episodes shot at the Mustang Ranch brothel east of Reno, the Goldfield Hotel and the Market Street Cinema in San Francisco.

A SWAT team responding to a hostage situation found their bodies when officers stormed their adult daughter's apartment near Sparks High School following an hours-long standoff on Tuesday.

Mark Constantino shot at officers who approached the door of the Sparks apartment, but they did not return fire, police said.

"The subjects involved in this incident were not shot at or injured by gunfire from any law enforcement personnel," Sparks police Lt. Rocky Triplett said in an email Wednesday to The Associated Press.

Washoe District Court records show Debby Constantino obtained a restraining order that was served on her estranged husband last week and the two were scheduled to appear in court in December regarding their pending divorce.

KTVN-TV in Reno, which videotaped them during a ghost adventure in 2007, first reported late Tuesday they were paranormal investigators.

Tuesday's incidents began at 6.30am when Reno police received a call of a man found dead at a home in northwest Reno where Debby Constantino had been living. She was missing.

Police say Mark Constantino was a suspect in that death.

Without naming her at the time, Reno police Lt. William Rulla told the Reno Gazette-Journal she had been a victim in an earlier kidnapping and domestic incident involving Mark Constantino, and that officers tracking her cellphone located her inside the Sparks apartment with her estranged husband.

Officers heard several shots fired when they knocked on the apartment door and heard a man yelling at police to leave. The suspect told the officers "give me 15 minutes to gather my thoughts or I'll kill her," Reno Deputy Police Chief Tom Robinson told the newspaper.

One officer was taken to a hospital after he was hurt by broken glass when police used explosives to open the door.

The Constantinos lectured at paranormal conferences around the country and maintained a Web site, www.spirit-speak.com.


Follow Emirates 24|7 on Google News.