Gunmen attack Pakistan air base, 10 dead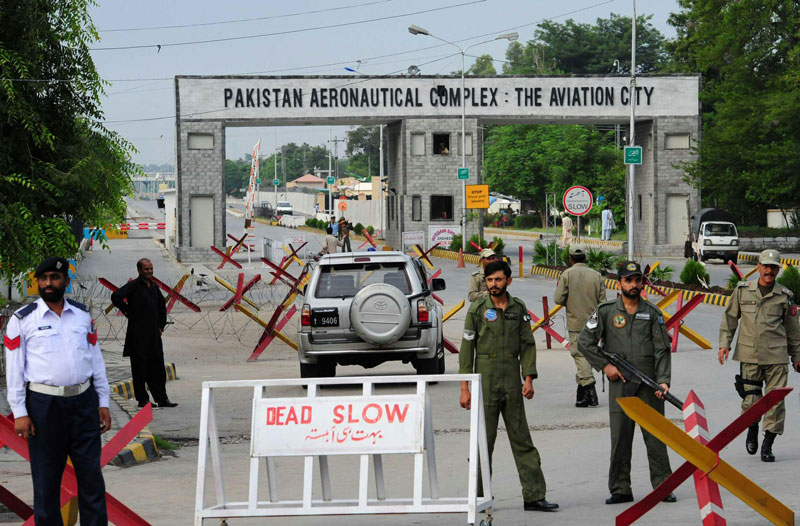 Heavily armed militants stormed a Pakistani air force base on Thursday, sparking clashes that left 10 people dead and raised concerns about the safety of the country's nuclear arsenal.

One security official was killed and a plane damaged in the pre-dawn assault at PAF Base Minhas, where suspected Islamists again showed their ability to penetrate a sensitive military site five years into a Taliban insurgency.

There has been a lull in recent attacks, but speculation is now heavy that Pakistan could bow to US demands for an operation against militants in their premier fortress of North Waziristan, in the tribal belt on the Afghan border.

An official denied there were nuclear weapons on the heavily guarded base, but the audacious assault would likely raise further questions in the West about the dangers of Pakistan's atomic weapons falling into extremists' hands.

The Pakistan Air Force said nine attackers dressed in military uniforms and armed with rocket propelled-grenades and suicide vests targeted the base and adjacent Pakistan Aeronautical Complex at 2:00 am (2100 GMT Wednesday).

The complex assembles Mirage and, with Chinese help, JF-17 fighter jets.

PAF Minhas, in the town of Kamra in Punjab province 60 km northwest of Islamabad, has been attacked twice before.

"Eight miscreants were killed inside the Minhas base boundary wall and one miscreant exploded himself outside the perimeters where he was hiding," the air force announced in an updated statement.

It said there had been a shootout "for more than two hours" and 10 hours after the assault began, spokesman Tariq Mahmood confirmed the base was "totally safe".

Witnesses said the attackers came round the back, exploiting the holiest night of the Muslim fasting month of Ramadan to remain undetected as long as possible.

"Most of the male residents (from the village at the back) were in mosques for special prayers," local resident Athar Abbas told Express Television.

"I heard three or four explosions, there was heavy gunfire also," he said. "It appears that the militants arrived using a village track and climbed over the wall."

One officer told AFP that he saw flames after waking up for his late night meal, eaten during Ramadan.

"There was an announcement by megaphone for soldiers not to move from the barracks and we were forbidden from going to the area where I saw the fire," he said. Special forces and police were scrambled to the scene.

Air force spokesman Mahmood said one security official had been killed, and the base commander wounded in the shoulder. Previous militant assaults on Pakistani military bases have exacted far higher casualty tolls.

There was no immediate claim of responsibility but the Pakistani Taliban have targeted a string of military bases since rising up against the government in July 2007.

In May 2011, it took 17 hours to quell an attack on an air base in Karachi claimed by the Taliban, piling embarrassment on the armed forces just three weeks after US troops killed Osama bin Laden in Pakistan.

Thursday's attack was the second in weeks to see troops die near the relatively secure capital. Gunmen on July 9 killed seven security personnel who had camped by a river less than 160 kilometres (100 miles) southeast of Islamabad.

Pakistan has been on alert for independence day on Tuesday and Eid.

On Tuesday, the head of the army, General Ashfaq Kayani, used his independence day address to describe the war on terror as "our own war and a just war too" -- not an American conflict as often portrayed.

He said "no state can afford a parallel system of governance and militias", and called on the nation to stand united or face the risk of a "civil war situation".

Pakistan says 35,000 of its people, including more than 3,000 soldiers, have been killed as a result of terrorism since the 9/11 attacks and the 2001 US-led invasion of neighbouring Afghanistan.

The base in Kamra was previously targeted on October 23, 2009 when a suicide bomber killed six civilians and two Pakistan Air Force personnel at a checkpoint.

On December 10, 2007, at least five children of base employees were wounded when a suicide car bomber struck a school bus.


Follow Emirates 24|7 on Google News.