Hillary Clinton tours Cairo's Tahrir Square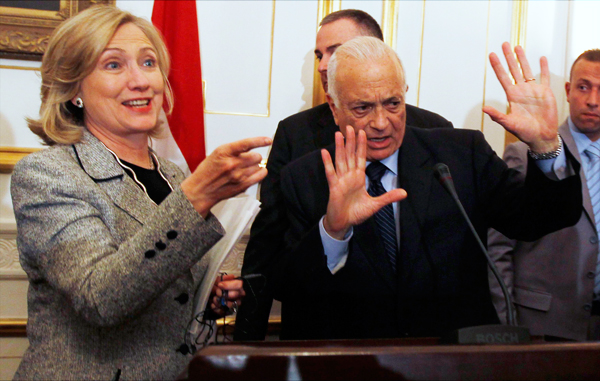 US Secretary of State Hillary Clinton toured Tahrir Square in central Cairo on Wednesday, visiting the heart of the revolt that toppled Hosni Mubarak from power in Egypt after 30 years and shook the Middle East.
She strolled around the square, flanked by security officials, and shook hands with pedestrians, including a woman in a Muslim headscarf and an older man who said: "Welcome to Tahrir Square."
She replied: "Hi, how are you?"
In the early days of the uprising, which began on Jan. 25, the square was the scene of violent clashes between demonstrators and police, who failed to quell the revolt with their until then effective heavy-handed tactics.
The police where then withdrawn from the streets and the army was deployed, surrounding the square with tanks but staying on the sidelines. When protesters were charged by Mubarak supporters on camels and horses on Feb. 2 the army looked on.
But despite the clashes, demonstrations became both protests and festive gatherings of hundreds of thousands. After Mubarak quit on Feb. 11, hundreds of thousands gathered to celebrate his departure.
Much of the anti-Mubarak graffiti has been cleaned away, traffic again flows through the square where several thoroughfares meet and cobbled pavements are being repaired after they were torn up to provide projectiles.
Follow Emirates 24|7 on Google News.