Japan exodus grows as radiation levels surge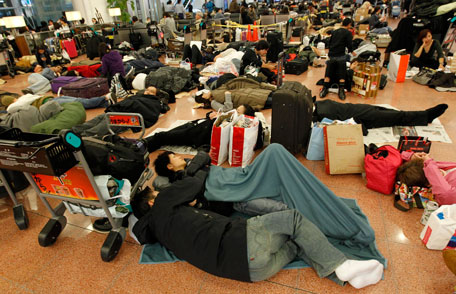 Thousands of people desperate to escape Japan's deepening nuclear crisis have inundated private jet companies with requests for evacuation flights, sending prices surging as much as a quarter.
Some multinational companies are pulling international staff out of Tokyo and surrounding areas after low-level radiation reached the metropolis on Tuesday.
Workers are fleeing for Hong Kong, Taiwan, South Korea and as far afield as Australia and the United States as power outages and shortages of basic supplies compound the misery after Friday's 9.0 earthquake and subsequent tsunami.
"I got a request yesterday to fly 14 people from Tokyo to Hong Kong, 5 hour 5 minutes trip. They did not care about price. The charge inflated by 26 percent to more than $160,000," said Jackie Wu, COO of Hong Kong Jet, a newly established private jet subsidiary of China's HNA Group.
"Yesterday, a charter plane from Tokyo to Australia one way, was quoted at $265,000, up 20 percent," Wu added.
Shortages of jet fuel and airport closures were complicating matters in Japan.
Mike Walsh, the CEO of private jet and charter company Asia Jet, said they had run three evacuation flights to Hong Kong from Tokyo by early Wednesday.
"It is now ramping up over last night because of the deteriorating situation. More people are worrying and looking to evacuate from Tokyo," Walsh told Reuters. "We are dealing with over 1,000 people wanting to evacuate from Tokyo this morning."
The company had five A330 aircraft on standby, leaving Hong Kong later on Wednesday, he added.
Airbus A330s can carry almost 300 people each.
Metrojet, a Hong Kong based business aviation company, said it had 28 aircraft available for charter, including two Gulfstream G200 aircraft, which carry 10 passengers each.
The G200 cost $5,900 an hour plus airport and other charges.
British charter plane broker Air Partner said it was likely to post a better second half as the Japan disaster and political crisis in the Middle East resulted in a surge in demand.
"There has been some significant pieces of business ... We will see the numbers affected in the second half, but we don't know exactly what it is (at the moment)," Chief Executive Mark Briffa told Reuters on Tuesday.
Air Partner, whose 'Ops24' division supplies outsourced flight operations service for passenger and freight flights worldwide, has evacuated more than 12,000 people from these regions since end-January.
Asia Jet's Walsh said large corporations and some non-government organisations made up the bulk of customers.
"We are here to help and try out best to accommodate everybody but it's really first come first serve and anyone is ready we will get them out."
Follow Emirates 24|7 on Google News.