Libya declares ceasefire after UN resolution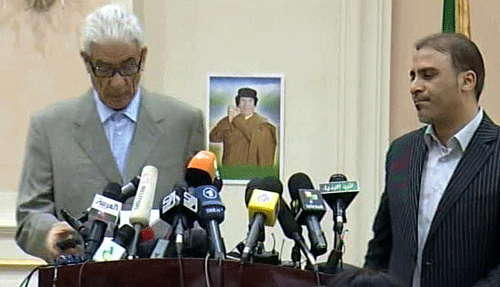 Libya declared a ceasefire in the country to protect civilians and comply with a United Nations resolution passed overnight, Libyan Foreign Minister Moussa Koussa said on Friday.
"We decided on an immediate ceasefire and on an immediate stop to all military operations," he told reporters.
"(Libya) takes great interest in protecting civilians," he said, adding that the country would also protect all foreigners and foreign assets in Libya.
Libya said on Friday it would protect all foreigners and foreign assets in the country following a U.N. resolution authorising military action against government forces to protect civilians.
"It (Libya) is also obliged to protect all foreigners and all of their assets," Foreign Minister Moussa Koussa told reporters.
Four New York Times journalists missing in Libya since Tuesday were captured by government forces and will be released on Friday, the newspaper said.
Follow Emirates 24|7 on Google News.