Libya shuts airspace as Nato strikes are imminent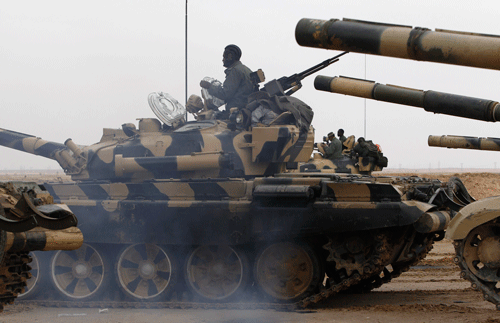 Military action to protect civilians from Libyan leader Moamer Kadhafi's forces will come within "hours" and France will participate in the strikes, government spokesman Francois Baroin said on Friday.
The strikes will come "rapidly... within a few hours," he told RTL radio after the UN Security Council on Thursday cleared the way for air strikes by approving "all necessary measures" to impose a no-fly zone on Libya.
Baroin said the military action "is not an occupation of Libyan territory" but sought to "protect the Libyan people and to allow them to go all the way in their drive for freedom, which means bringing down the Kadhafi regime."
Baroin declined to say "when, how, on which targets, in what form," the strikes would come.
"The French who were at the vanguard of this call (for intervention) will naturally be part of the military intervention," he said.
"What happened last night (with the UN resolution) is a very important step in dealing with the war in Libya, Kadhafi's massacre of his people and we must recognise the powerful role played by President Nicolas Sarkozy and France."
Diplomats have indicated that air strikes from a coalition led by Britain, France and the United States could be imminent. However, the resolution rules out sending in foreign ground troops.
Baroin hailed the role of the 22-member Arab League in calling for action in Libya, without which "it would probably have been difficult to get the international community to do something."
"Even the Americans were in a bit of a position of waiting, of wait-and-see."
As for Germany, which along with four other countries abstained from the UN Security Council vote, Baroin said "we were already disappointed at the Council of Europe not to see Germany join us with the British in this action."
"But... what counts is what was done last night," he said. "I'm not sure, given the positions of Kadhafi and his son Seif al-Islam Kadhafi, that anything can make these terrorist and bloodthirsty dictators see reason."
Libya shuts airspace
Libya has closed its air space to all traffic, according to European air traffic control organisation Eurocontrol, a move that may anticipate the U.N.'s imposition of a no-fly zone over Libya.
Eurocontrol said it had received information from Malta that Tripoli air traffic control had put out a notice saying it was not accepting any aircraft into Libyan airspace "until further notice".
"That is the only information we have at this time," said a spokeswoman for Eurocontrol. "It is information passed onto us from Maltese authorities."
The United Nations Security Council voted on Thursday to impose a no-fly zone over Libya and to provide help for Libyan rebels fighting to overthrow Muammar Gaddafi.
The decision is expected to involve air operations by Britain, France and the United States in the coming hours.
Libyan fighter planes continue to carry out attacks in eastern Libya, targeting rebels in the city of Misrata and Benghazi, Libya's second largest city and a stronghold of the rebel movement.
Eurocontrol, set up in 1960, is responsible for monitoring air navigation across 39 European countries.
Follow Emirates 24|7 on Google News.