Nato weaknesses exposed, says US defence secretary Gates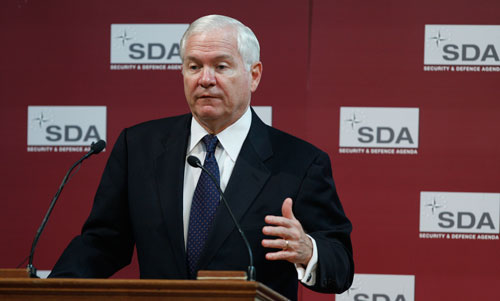 US Defence Secretary Robert Gates rounded on Nato allies Friday for their over-dependence on US military might, warning it was putting the Libya mission and the alliance's very future at risk.
Painting a bleak picture of the state of the 28-nation transatlantic alliance, Gates said America's partners were running short of munitions after 11 weeks of air raids in Libya.
"Frankly, many of those allies sitting on the sidelines do so not because they do not want to participate, but simply because they cannot. The military capabilities simply aren't there," Gates said in a speech to the Security and Defence Agenda think tank in Brussels.
He said the Nato-led ground war in Afghanistan had scored important accomplishments but said the mission, along with the Libya war, had reflected chronic underinvestment and at times a lack of political backbone.
In Afghanistan, Gates said it was worrying that an alliance with two million in uniform has "struggled, at times desperately, to sustain a deployment of 25,000 to 45,000 troops" and faced shortages of helicopters, transport aircraft, maintenance and surveillance planes.
"Turning to the Nato operation over Libya, it has become painfully clear that similar shortcomings -- in capability and will -- have the potential to jeopardise the alliance's ability to conduct an integrated, effective and sustained air-sea campaign," he said.
Gates acknowledged that the Libyan mission has met its initial military goals of grounding Moamer Kadhafi's air force and limiting the regime's ability to launch attacks against civilians.
However, he said many allies lacked intelligence and surveillance aircraft and specialists, which meant the US military had to step in to ensure that allied fighter jets could identify and strike targets.
"Furthermore, the mightiest military alliance in history is only 11 weeks into an operation against a poorly armed regime in a sparsely populated country -- yet many allies are beginning to run short of munitions, requiring the US, once more, to make up the difference," he said.
With half of the alliance's 28 members not participating in the Libya campaign, Gates used a two-day meeting of Nato defence ministers this week to prod allies that have taken a backseat to do more in Libya.
Only eight Nato members are conducting air strikes in Libya, with France and Britain carrying out half of the bombing missions while the United States, Canada, Belgium, Denmark, Norway and Italy conduct the rest along with non-Nato partner.
Gates also seized on his final official trip to Brussels before he retires at the end of the month to complain once more about shrinking military budgets in Europe.
"What I've sketched out is the real possibility for a dim, if not dismal future for the transatlantic alliance," he said.
With the US share of Nato defence spending at 75 percent, Gates said it would become increasingly difficult for the United States to keep its current level of support at a time of financial strain at home.
"The blunt reality is that there will be dwindling appetite and patience in the US Congress -- and in the American body politic writ large -- to expend increasingly precious funds on behalf of nations that are apparently unwilling to devote the necessary resources or make the necessary changes to be serious and capable partners in their own defence," he said.
Gates said his fears that Nato would turn into a "two-tiered alliance," with some nations pursuing only "soft" humanitarian operations while others carry out "hard" combat missions, had come to pass.
"This is no longer a hypothetical worry. We are there today. And it is unacceptable," he said.
Alliance members face "the very real possibility of collective military irrelevance" if they do not take action to bolster combat strength, he said.
The Cold Warrior and former CIA director warned that the alliance might carry less meaning for younger generations of American politicians.
"Future US political leaders -- those for whom the Cold War was not the formative experience that it was for me -- may not consider the return on America's investment in Nato worth the cost," he said.
Follow Emirates 24|7 on Google News.