Military stands between the people and Mubarak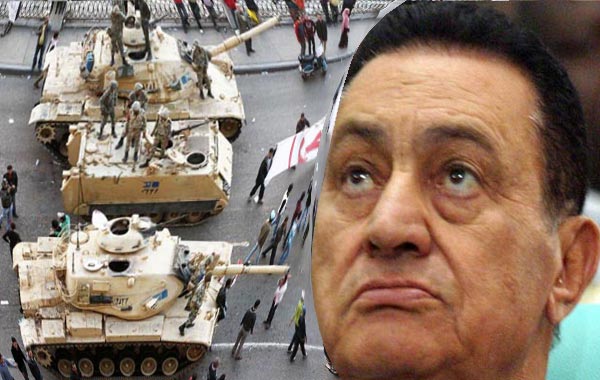 President Hosni Mubarak has turned to Egypt's military to uphold his regime as fighter jets buzzed downtown Cairo where mass demonstrations against his rule on Sunday raged for a sixth day.
Caught between a mob which insists on his ouster and US appeals for "an orderly transition," Mubarak's efforts to firm up his shaky regime carry no guarantee of success, analysts said.
Mubarak appointed his intelligence chief as his first-ever vice president and promoted a general to prime minister on Saturday.
And the military has been ordered out to reinforce Egypt's overstretched police force which has failed to quash a nationwide revolt that has cost more than 100 lives in less than a week.
In Washington, US Secretary of State Hillary Clinton called for an "orderly transition," saying Mubarak had not made enough effort to democratise the country he has led for three decades.
"We are urging the Mubarak government, which is still in power, we are urging the military, which is a very respected institution in Egypt, to do what is necessary to facilitate ... (an) orderly transition," she told ABC News.
In his overtures to the armed forces, Mubarak, himself a former military man who rose to the top, visited a military operations installation on Saturday to monitor the "re-establishment of control," according to state-run television.
However, the naming of intelligence chief General Omar Suleiman to the vice presidency and the civil aviation minister, General Ahmed Shafik, as prime minister have failed to calm anger on the streets.
"It is not Suleiman's and Shafik's personalities that are the problem so much as the way in which they were appointed," said Amr el-Shobaki, a political analyst at Al-Ahram Centre for Political and Strategic Studies.
"In typical Mubarak fashion, the people were not consulted."
With the unprecedented demonstrations "we are witnessing a return of the Egyptian people. We must talk about reforms and address the concerns of young people, who have paid a heavy price" in the revolt, he said.
Behind this apparent show of strength, the appointments could also reflect weakness and leave the door open to a successor. In his 30-year rule, Mubarak has always refused to appoint a vice president for fear of being overshadowed.
"Mubarak is stuck in a corner. The only one he can count on is the military," said Rabab al-Madhi of the American University of Cairo. Saturday's appointments aimed to "renew the military's allegiance" to the president.
Although Suleiman is a longtime ally of Mubarak, he has often been considered a possible successor to the 82-year-old president.
A cable from the US embassy to Egypt, dated 2007 and disclosed on Wikileaks, shows that Washington saw Suleiman as a possible "transitional figure" despite his "rock solid" support for Mubarak.
Suleiman "could be attractive to the ruling apparatus and the public at large as a reliable figure unlikely to harbour ambitions for another multi-decade presidency," the cable reads.
Follow Emirates 24|7 on Google News.