Police try to contain sectarian clashes in Belfast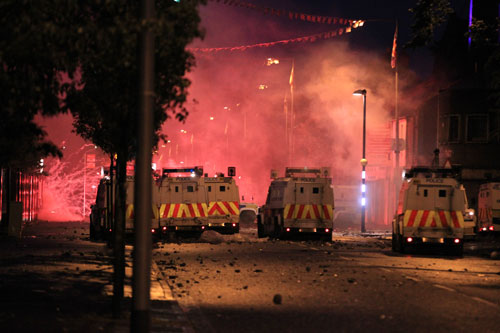 Heavily armed police Wednesday patrolled the streets of Belfast and local officials held talks to try to avert a third night of violence after some of Northern Ireland's worst sectarian clashes in years.
On Tuesday night, a photographer was shot in the leg and rioters threw petrol bombs and other missiles at police, who responded by firing water cannons.
Up to 400 people rioted near a Catholic enclave in mainly Protestant east Belfast, a flashpoint during the civil strife which plagued the province from the late 1960s to late 1990s.
Several gunshots were fired in Tuesday's violence, police and witnesses said, and a photographer working for Britain's Press Association news agency was hit in his lower right leg. He was taken to hospital but was in a stable condition.
Police blamed pro-British paramilitaries the Ulster Volunteer Force (UVF) for starting the violence but said the shots were fired by dissident republicans, who oppose the peace process and want the province to be part of Ireland.
"The UVF in East Belfast started this," said Assistant Chief Constable Alistair Finlay.
"Their hands are upon this, whether by direction, by omission or commission."
Like most paramilitary groups, the UVF decommissioned its weapons and declared a ceasefire following the 1998 peace accords which largely ended the bombings and shootings in the British-ruled province.
But it was blamed for a brutal murder last year when a Protestant man was shot dead in broad daylight in an apparent execution-style killing.
Peter Muhly, an AFP photographer covering Tuesday's riots, saw a hand holding a gun emerge over a brick wall and then heard about four or five shots ring out before he saw his colleague had been hit.
He said the shots appeared to come at random from the Catholic enclave of Short Strand.
A police spokesman later confirmed: "Dissident republicans were responsible for the shots that were fired during last night's disorder in east Belfast."
Chantelle Stewart, 21-year-old Protestant who lives opposite the Catholic area where the trouble broke out, said: "It was the worst in years. There haven't been gunshots in this road for years. Someone is going to end up dead."
She said she feared the province was reverting to its darkest days.
"People just want peace. They want somewhere where it's quiet to live but it seems like it's going back to the 1970s at the moment."
Many houses had windows freshly boarded up after they were smashed in the riots.
In the first night of rioting on Monday, two people were hospitalised with gunshot wounds.
Government insiders said the re-emergence of guns in Belfast was "worrying".
A series of meetings to find a way to halt the violence were underway Wednesday, officials said.
A "resolution of conflict committee", which brought together members of the UVF and Republicans, pledged to do its utmost to avoid any further violence, officials familiar with the talks said.
"We have bit of breathing space now to try to deal with these issues," said the official.
There are often clashes at this time of year as next month's marching season approaches.
North Belfast was hit by several nights of riots in July last year, sparked by Protestant marches, often through Catholic areas, to mark William of Orange's victory over the Catholic King James II at the Battle of the Boyne in 1690.
First Minister Peter Robinson, from the pro-British Democratic Unionist Party (DUP), condemned the disturbances, as did his deputy Martin McGuinness, from the republican Sinn Fein party.
The two parties share power in a devolved government.
"At this time when many are working hard to build a better and brighter future for all in Northern Ireland, it is disappointing and deeply concerning to see this level of violence return to our streets," Robinson said.
McGuinness said: "A small minority of individuals are clearly determined to destabilise our communities. They will not be allowed to drag us back to the past. I call on all those involved to take a step back and to remain calm."
Follow Emirates 24|7 on Google News.