Prince William crash lands chopper in Canada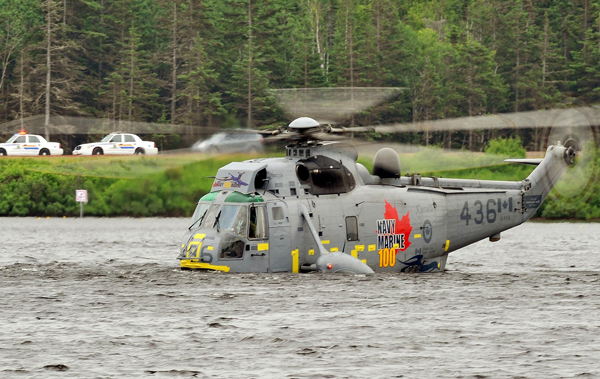 Prince William splashed down on a Prince Edward Island lake on Monday in a massive Sea King helicopter for an emergency water landing drill, on the fifth day of a landmark Canadian tour with his wife Catherine.
William, whose day job is a Royal Air Force search and rescue pilot in Anglesey, Wales, was taking part in a "waterbirding" exercise midway through the British royal couple's official visit, after arriving for a private reception in nearby Charlottetown, capital of Prince Edward Island, on Sunday evening.
The controlled landing procedure was developed in Canada in the event of engine failure while military helicopters scout for enemy submarines or during search and rescue operations.
A half dozen members of William's air force unit have come here each year to learn the manoeuvre, Major Patrick MacNamara, navigator on William's training exercise, told AFP.
"He'd heard a lot about it from his mates back home and wanted to try it," he said.
As Catherine looked on nervously from the shores of Dalvay By The Sea, a historic hotel site 50 kilometers from the PEI capital, William took the controls of the military whirlybird and dove it into a small lake, then skimmed along the water like a duck before taking off vertically.
"That was cool!" screamed an onlooker.
Canadian Forces Major Mark Kotzer explained it was "very important for the pilot (William) to keep the tail rotor out of the water," as the prince repeated the procedure a dozen times.
On the fifth landing, William shut off one of the Sea King's two engines to simulate engine failure, coming in faster and harder and kicking up a mist of lake water over the hundreds of fans watching from shore.
He also tried a few blind landings, using only the helicopter's onboard instruments.
"It was extremely well done," said Kotzer.
"He was having quite a bit of fun," observed MacNamara afterwards. "And he certainly knows what he's doing in an aircraft," he added, describing William's landings as "very crisp."
"It's a very different feeling landing in water: (for the pilot) the horizon sits much lower than you're used to (on land), and you can feel the water rush underneath the helicopter," he said.
William and Catherine also competed in Chinese dragon boat races with Canada's national team (William's team won "by a narrow margin") and would later observe search and rescue operations from the deck of a coast guard ship.
Catherine had reportedly practiced paddling prior to her arrival in Canada.
"It was a very close race," said Stephen Gallant, captain of Kate's dragon boat, cheekily downplaying his team's loss by a boat-length. "They (William's team) started off strong out of the gate, but we caught up."
Earlier Monday, a children's choir and a crowd of 15,000 welcomed the royal couple to Prince Edward Island's legislature and birthplace of the Canadian federation, waving placards "Kate can I borrow your dress," as a light rain started to come down.
William and Catherine in a cream pencil dress by Sarah Burton at Alexander McQueen, had arrived in PEI from Quebec province as part of their nine-day tour of Canada.
"It is quite a moment for Catherine and me to be standing here in Atlantic Canada, in front of Province House, where Canadian Federation was forged," the prince said.
The Duke and Duchess of Cambridge also shared a few words on the steps of Province House with actors posing as Canada's founding fathers who first gathered at the site in 1864 and conceived of the idea of the nation of Canada. Confederation would follow in 1867.
Afterwards, the royal couple glad-handed with fans before taking a carriage ride down the main street.
Their stop in Eastern Canada comes after a somewhat rocky reception in French-speaking Quebec.
William and Catherine had charmed a crush of well-wishers in Quebec City on Sunday but were rushed through their visit of Montreal one day earlier as police lines kept republican protests away from their first official foreign trip as newlyweds.
Although Britain conquered the former French colony of Quebec in 1763, its culture and language survived, and today it is a bastion of French culture in North America.
British rule, however, still evokes resentment in some quarters of the Canadian province.
Monday evening William and the former Catherine Middleton will move on to Yellowknife in Canada's Northwest Territories for aboriginal sports and then Calgary for a rodeo before leaving Canada and heading for Los Angeles on July 9.
Also Read:
Romantic Kate and William rule the waves
Follow Emirates 24|7 on Google News.