Putin condemns 'trend' of US military intervention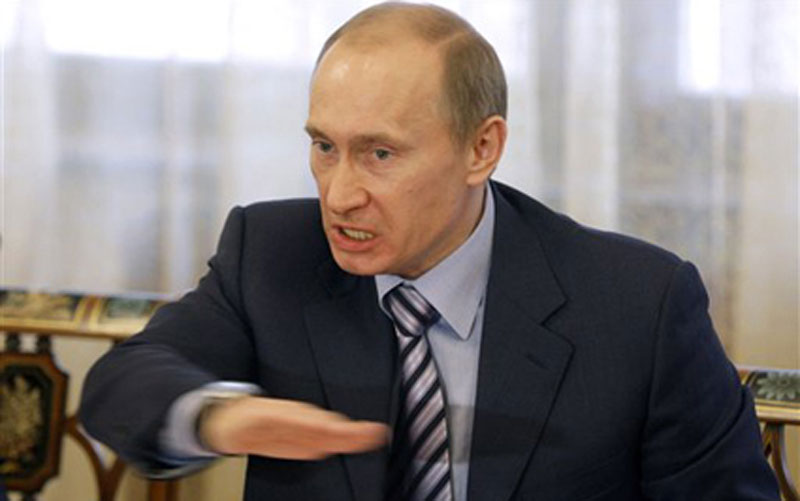 Russian Prime Minister Vladimir Putin on Monday lashed out at the "steady trend" of US military intervention around the world, accusing Washington of acting without conscience or logic.
"I am concerned about the ease with which the decision to use force was taken," Russian news agencies quoted Putin as saying in reference to the current international campaign in Libya.
Noting that the United States had already involved itself in the former Yugoslavia, Afghanistan and Iraq, Putin added: "Now it's Libya's turn.
"And all of this under the guise of protecting peaceful civilians. Where is the logic, where is the conscience? There is neither one nor the other," Putin said.
Russian Prime Minister Vladimir Putin Monday slammed the UN resolution allowing military action on Libya as a "medieval call to crusade" and hit out at Washington for its readiness to resort to force.
In one of his most virulent diatribes against the West in years, Russia's de facto number one said there was no "logic" or "conscience" to the military action.
"The resolution by the Security Council, of course, is defective and flawed," Russian news agencies quoted Putin as telling workers on a visit to a missile factory.
"To me, it resembles some sort of medieval call to crusade when someone would appeal to someone to go to a certain place and free someone else."
Putin's comments marked a sharp hardening of Moscow's rhetoric against the Western military action on Libya after Russia abstained from the UN resolution last week, refusing to use its veto which would have blocked its passage.
Putin also said that the events in Libya showed that Russia had taken the right decision in strengthening its military capabilities, in possible reference to its massive new $650 billion rearmament plan.
"Today's events in Libya prove that we are doing everything right in terms of strengthening Russia's military capabilities," he was quoted as saying.
He also announced that Russia planned to double the production of strategic and tactical missile systems from 2013.
Putin's hardline comments also sit awkwardly with the reset in US-Russia ties championed by his successor in the Kremlin, President Dmitry Medvedev, which has seen a swift warming of relations over the last months.
Observers have long speculated that the US favours Medvedev over Putin. Some reports even suggested that US Vice President Joe Biden wanted to warn Putin against considering a return to the Kremlin in 2012 polls, on his visit to Russia this month.
Russia had initially backed international measures against the Kadhafi regime, signing on to UN Security Council sanctions that imposed an arms embargo against Libya and other sanctions against Kadhafi's family.
Some Russian defence officials had initially expressed concern about the sanctions, saying the UN arms export prohibition may cost the country some $4 billion in current and future contacts.
Medvedev raps Puting
Russian President Dmitry Medvedev on Monday said the use of the term crusades to refer to the situation in Libya was "unacceptable".
Medvedev spoke just hours after Prime Minister Vladimir Putin likened the United Nations Security Council resolution authorising military intervention in Libya to "medieval calls for crusades".
Medvedev said Russia would not participate in any military coalition in Libya but was ready to take part in peacekeeping operations.
Strikes on Libya
set to slow, stalemate feared
Tanks deployed in
Yemen as generals defect
UK jets abort Libya
attack over civilian concerns
Follow Emirates 24|7 on Google News.