Romantic Kate and William rule the waves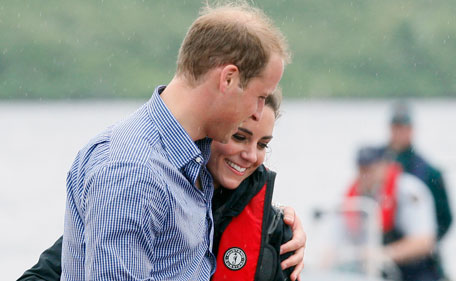 William and Kate also competed in Chinese dragon boat races with Canada's national team (William's team won "by a narrow margin") and were scheduled to later observe search and rescue operations from the deck of a coast guard ship.

Kate had reportedly practiced paddling prior to her arrival in Canada.

"It was a very close race," said Stephen Gallant, captain of Kate's dragon boat, cheekily downplaying his team's loss by a boat-length. "They (William's team) started off strong out of the gate, but we caught up."

There were seemingly no hard feelings between Will and Kate over the result, as the couple shared a hug on the dock after the race.

After a lobster tasting on the beach, the couple were whisked to Summerside on the other side of the Island to observe a sea rescue.

They watched from the deck of a Canadian Coast Guard ship along with Canadian Defense Minister Peter MacKay, breaking out in applause as the crews of two skiffs and divers dropped from a helicopter plucked three people from the sea after a simulated boat capsizing.

A children's choir and a crowd of 15,000 had earlier welcomed the royal couple to Prince Edward Island's legislature and birthplace of the Canadian federation, waving placards reading "Kate can I borrow your dress," under a light drizzle.

William and Kate, in a cream pencil dress by Sarah Burton at Alexander McQueen, had arrived on the island from Quebec province as part of their nine-day tour of Canada.
"It is quite a moment for Catherine and me to be standing here in Atlantic Canada, in front of Province House, where Canadian Federation was forged," the prince said.

The duke and duchess of Cambridge also shared a few words on the steps of Province House with actors posing as Canada's founding fathers, who first gathered at the site in 1864 and conceived of the idea of the Canadian nation. Confederation would follow in 1867.

Afterwards, the royal couple glad-handed with fans before taking a carriage ride down the main street.

Their stop in eastern Canada followed a somewhat rocky reception in French-speaking Quebec.

William and Kate had charmed a crush of well-wishers in Quebec City on Sunday but were met by successive anti-monarchy protests one day earlier at a hospital and a culinary school in Montreal, on their first official foreign trip as newlyweds.

Although Britain conquered the former French colony of Quebec in 1763, its culture and language survived, and today it is a bastion of French culture in North America.
British rule, however, still evokes resentment in some quarters of the Canadian province.

Later Monday, William and the former Kate Middleton moved on to Yellowknife in Canada's Northwest Territories for aboriginal sports the next day and then Calgary for a rodeo before leaving Canada and heading for Los Angeles on July 9.
Follow Emirates 24|7 on Google News.