Russia, Nato clash over Libya campaign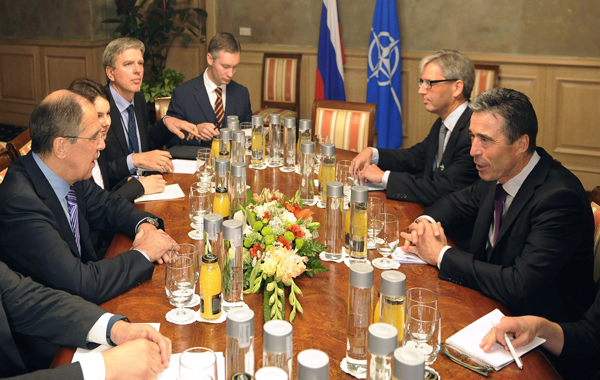 Russia and NATO on Monday failed to narrow their differences over the Western air campaign in Libya, as alliance warplanes stepped up their bombing of regime targets.
Russian Foreign Minister Sergei Lavrov accused NATO of interpreting a UN resolution any way it wished, after talks with NATO chief Anders Fogh Rasmussen that showed up differences rather than secure any agreement on a solution.
The scheduled NATO-Russia Council meeting in the Black Sea city of Sochi was joined at the last minute by South African President Jacob Zuma, fresh from an African Union summit that tried to forge a regional peace plan to end the conflict.
"So far, there is no common understanding over how the resolution is being implemented," Lavrov said, referring to the UN Security Council resolution that paved the way for the air campaign.
"We want this resolution to be fulfilled literally, without expanding its interpretation."
Russia abstained in the resolution vote at the Security Council but has since expressed growing anger over the duration and intensity of the strikes against targets of Moamer Kadhafi's Libyan regime.
Last week Russia was particularly angered by a direct French arms drop to rebels fighting Kadhafi's forces.
But Rasmussen vehemently defended the arms drop which he said was in line with the resolution.
"The delivery of weapons has taken place as part of protection of civilians and the ability to protect themselves against attacks," he told reporters.
Libyan officials on Monday said they had intercepted two boats west of Tripoli loaded with Qatari weapons bound for the rebels.
Deputy Foreign Minister Khaled Kaaim told reporters that following the weapons drop Kadhafi's regime is "witnessing a new form of arms shipments by sea," and warned that the weapons "could fall into the hands of Al Qaeda."
He also said contacts between Tripoli and rebel-stronghold Benghazi were continuing across several cities in Europe in order to seek a reconcilation and avoid bloodshed.
"The Libyan leader is encouraging dialogue and overseeing it," Kaaim said.
Russia has advocated the AU taking a leading role in negotiations to end the conflict, and Zuma, who been highly critical of the NATO raids, told his Russian counterpart Dimitry Medvedev that he hoped the alliance would better appreciate the AU's concerns.
One of the new elements in the road map agreed by the AU on Friday included provisions for a multinational peacekeeping force organised by the United Nations.
But the rebels have thus far rejected the AU's settlement terms and Russia has also failed to convince Kadhafi to leave.
"There is absolutely no current or future possibility for Kadhafi to remain in Libya," said National Transitional Council chief Mustafa Mohammed Abdel Jalil.
"There is no escape clause for Kadhafi -- he must be removed from power and face justice," Jalil said in a statement.
The eccentric former Russian governor and current World Chess Federation (FIDE) chief Kirsan Ilyumzhinov told the Interfax news agency from Tripoli that he had just met the Libyan leader's eldest son Muhammad and was again told that Kadhafi would never go.
NATO data showed Monday that its warplanes have dramatically stepped up their bombing campaign.
It flew 71 strike sorties in 24 hours, nearly double the daily tempo seen in past weeks, pounding targets on the eastern front at Brega and around Tripoli overnight Sunday.
Seventeen strikes hit armoured vehicles, command and control nodes, military storage facilities and a tank in Brega, 150 kilometres (240 kilometres) from the rebel capital Benghazi, NATO said.
The rebels -- who pulled back from the plains on the road to Tripoli to the Nafusa Mountains last week -- have been buoyed by the arms drops and said they would move to retake a key gateway to Tripoli.
Meanwhile in Benghazi on Monday, a large car bomb was found outside an upscale hotel used by Western diplomats and rebel politicians, security officials told AFP, which could fuel fears about a pro-Kadhafi cell operation in the rebel stronghold.
Follow Emirates 24|7 on Google News.