Syrian security men kill 17 in Deraa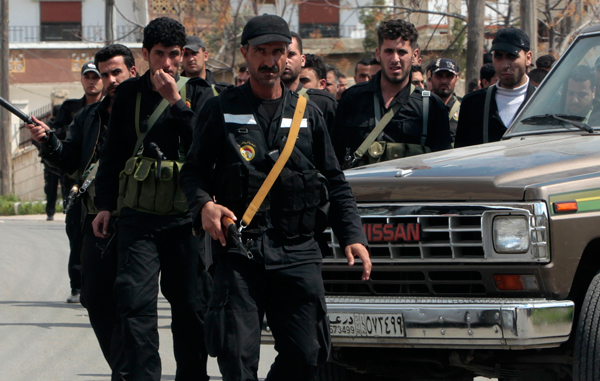 At least 17 people were killed in the southern Syrian city of Deraa on Friday, a hospital source said, after witnesses reported security forces opened fire to disperse demonstrators.
The state news agency Sana reported shooting in Deraa, but it said "vandals" had opened fire on mass gatherings, killing a policeman and an ambulance driver and wounding dozens of police and residents.
Syrian state television aired footage on Friday of several masked gunmen who could be seen shooting in what it said was the southern city of Deraa.
The news anchor said the gunmen were firing at protesters and police. "A peaceful demonstration which vandals infiltrated .. attacked the electricity company and started shooting and opened fire on the television (station) .
"Some of the gunmen were firing live bullets on protesters and security forces. This expresses clearly and openly that there are some people who wish evil on Syria," the news anchor said. The Syrian government has blamed killings during weeks of pro-democracy protests on armed groups shooting at random, while protesters say they have been targeted by security forces.
Follow Emirates 24|7 on Google News.