Tanks deployed in Yemen as generals defect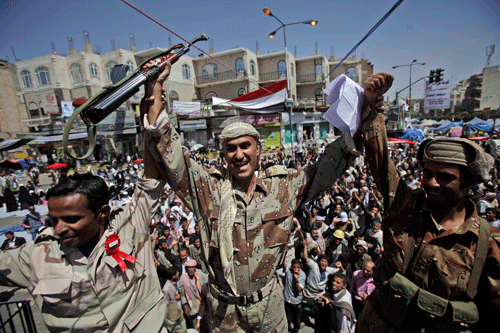 Tanks were deployed in the Yemeni capital on Monday as top generals pledged allegiance to the "revolution" and the country's main tribal leader demanded President Ali Abdullah Saleh's exit from power.
But even as some of his closest allies abandoned him, the embattled leader refused to submit to calls for his resignation and claimed he had the support of the vast majority of people in the impoverished country.
"We're still here... the great majority of the Yemeni people are with security, stability and constitutional law," he said.
"Those who are calling for chaos, violence, hate and sabotage are only a tiny minority."
Tanks took up positions in key locations across Sanaa including at the presidential palace, the central bank and the ministry of defence, but it was unclear what their orders were or who was in command.
In the first of a series of body blows to Saleh's authority, General Ali Mohsen Al Ahmar, commander of the Northwest Military District which includes Sanaa, announced he had joined the "revolution."
"The crisis is getting more complicated and it's pushing the country towards violence and civil war," the general said in a statement.
"According to what I'm feeling, and according to the feelings of my partner commanders and soldiers... I announce our support and our peaceful backing to the youth revolution.
"We are going to fulfill our duties in preserving security and stability."
One by one, dozens of officers of various ranks stood at the tent city near Sanaa University, where demonstrators have kept vigil since February 21 in spite of a wave of attacks, and publicly pledged to support the revolution.
Eastern Military district chief General Mohammed Ali Mohsen also threw his support behind the protesters, as well as at least two other generals, Nasser Ali Shuaybi in Hadramawt province and Faisal Rajab in the southern province of Lahij.
Sadiq Al Ahmar, who leads the Hashid tribal federation, the largest in deeply tribal Yemen and a crucial source of Saleh's power, told Al-Jazeera it was time for the embattled president to make a "quiet exit."
"I announce in the name of all the members of my tribe that I am joining the revolution," Ahmar said, calling for Saleh "to exempt Yemen from the bloodshed and make a quiet exit."
The deputy speaker of parliament, Himyar Al Ahmar, and the governor of the key southern province of Aden, Ahmed Qaatabi, also resigned in protest at the treatment of demonstrators.
The defections came a day after Saleh sacked his cabinet in a bid to placate opposition calls for sweeping reforms in the key US ally.
As the pillars of his power apparently collapsed beneath him, Saleh sent Foreign Minister Abu Bakr Al Kurbi on an urgent mission to Saudi Arabia with a secret message for the king, the state news agency reported.
The regime has already lost the support of religious leaders and been weakened by the resignations of ministers, ambassadors and a host of ruling party MPs, but Saleh has refused to stand down until his term ends in 2013.
His regime was internationally condemned after more than 50 people were killed when loyalist gunmen opened fire Friday on protesters in Sanaa's University Square, the centre of the pro-democracy movement.
The defection of top military officers to the opposition is likely to complicate Washington's support for Saleh, whom it sees as a guarantor of stability in a volatile country and a partner in the war against Al-Qaeda.
US special forces are training Yemeni anti-terror units engaged against Al-Qaeda in the Arabian Peninsula (AQAP), which has allegedly attempted several attacks on US targets.
Yemen is also the suspected hideout of radical US-Yemeni cleric Anwar al-Awlaki, an alleged AQAP leader and described by a senior US security official as "probably the most significant risk" to the United States.
Politicians and civil society leaders joined in a massive funeral procession in Sanaa on Sunday for some of those killed last week, in what amounted to the biggest anti-regime demonstration since the protests began in late January.
UN Secretary General Ban Ki-moon on Monday strongly condemned the use of live ammunition against demonstrators in Yemen, and repeated international calls for dialogue and restraint.
"The Yemen government has an obligation to protect civilians. I call for the utmost retraint and end to violence," Ban told reporters following talks with Arab League chief Amr Mussa in Cairo.
"There is no alternative to an inclusive dialogue on political, social and economic reform to address Yemen's political crisis."
Follow Emirates 24|7 on Google News.