Tsunami lashes the US... one dead so far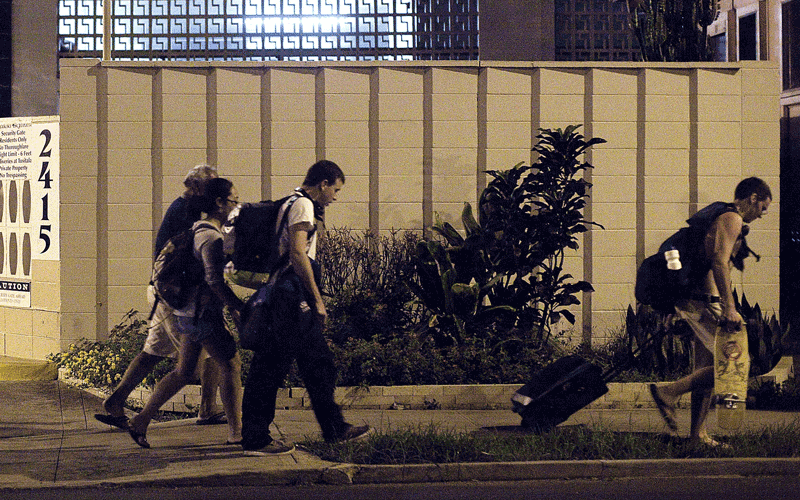 Tsunami waves from Japan's huge quake have killed at least one person and sparked mass evacuations on the American continent, but failed to inflict major damage.
Surges of eight feet (2.4 meters) high crashed ashore on the coasts of California and Oregon Friday, up to 12 hours after the 8.9-magnitude quake triggered tsunami alerts in dozens of countries across the Pacific.
In California's Del Norte County, a 25-year-old man was confirmed dead after being swept into the Pacific Ocean near the mouth of the Klamath River.
The man and two friends were taking photographs of the incoming tsunami waves.
"We have at least 35 boats that have been crushed. We have boats on top of other boats," said Cindy Henderson, emergency services manager in Crescent City, 350 miles north of San Francisco.
The US Coast Guard added that there had also been damage to about six boats in a marina in Santa Cruz, further south, after they collided with each other due to the buffeting tsunami waves.
Santa Cruz port director Lisa Ekers estimated the damage at more than ê10 million, according to CNN.
California's governor Jerry Brown, meanwhile, declared a state of emergency in four of the state's coastal counties -- a procedure that unblocks federal funds to help with the clean-up.
Before reaching the US mainland the tidal waves hit Hawaii, which had been given only four hours to evacuate low-lying areas, sirens blared as locals and tourists scrambled to higher ground.
Many residents had already taken refuge in shelters, after the Pacific Tsunami Warning Center issued an ocean-wide alert for the giant waves along the West Coast, down through Central and South America as far as Antarctica.
Several hours later, Hawaii Governor Neil Abercrombie said the tsunami warning had been downgraded to a tsunami advisory.
"Although we were fortunate that a more destructive tsunami did not materialize, I can assure everyone that our agencies and officials are well-prepared to respond to emergencies of this nature," the governor said.
Canada also issued an alert for the north coast of British Columbia, warning it may "produce strong currents dangerous to those in or near the water."
The tsunami warning came after the largest ever recorded earthquake in the Asian nation's history, triggering walls of water which swamped the Japanese coastline and left hundreds of people dead.
The largest wave to crash ashore in Hawaii - some 6,500km from the epicenter of the quake - was measured as a 6-foot (1.8-metre) surge that hit Kahului on the island of Maui, officials said.
Geophysicist Gerard Fryer with the Pacific centre said it was a "significant tsunami." While no major damage was reported, waves had apparently been washing up about 100 feet (30 meters) inland on the Big Island.
The tsunami has caused a storm surge in the Galapagos islands but largely spared Latin America from major damage.
Ecuadoran President Rafael Correa said the surge may have affected some dwellings but "has not endangered human life."
Chile, Ecuador and Peru ordered evacuations of coastal areas and Ecuador also halted oil shipments amid fears of rough seas.
Peruvian officials said the first wave of around 40 centimeters (15 inches) hit around 0050 GMT Saturday, after some coastal areas were evacuated.
President Alan Garcia said earlier he saw "no enormous danger" from the tsunami.
In Mexico, no casualties or damages were reported as waves up to 70 centimeters (2.2 feet) high arrived on coastal areas of Baja California.
US President Barack Obama said he was monitoring the tsunami threat to his home state of Hawaii and the US West Coast, and he phoned Japanese Prime Minister Naoto Kan to offer condolences and US help.
"My understanding is that the main assistance that we're going to be able to provide them is lift capacity: the ability for us to help in the cleanup," Obama said.
The Pentagon said the US military was ready to provide emergency assistance to the victims in Japan, and especially to send ships with humanitarian aid to help.
The US Agency for International Development (USAID) said it was sending a disaster response team along with two other search and rescue units, each comprising 72 people, sniffer dogs and 75 tons of rescue equipment.
Meanwhile, the USS Dubuque that was docked south of Los Angeles was ordered out into open water as a precautionary measure.
But the US Pacific Fleet command said it would not evacuate any personnel or sailing ships out of Pearl Harbor, on the southeastern side of Oahu Island, Hawaii.
Follow Emirates 24|7 on Google News.