UK jets abort Libya attack over civilian concerns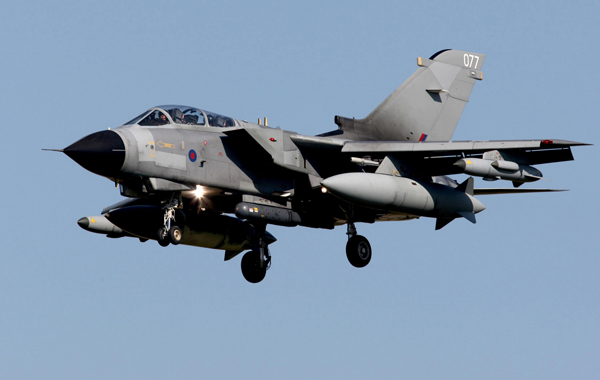 British Tornado jets pulled back from attacking Libyan air defence systems overnight because of a fear of hitting civilians, the defence ministry said Monday.
Royal Air Force (RAF) planes approached a target but decided not to launch their weapons because of information that there were civilians in the area, military spokesman Major General John Lorimer said.
Late Sunday, Britain launched guided Tomahawk land attack missiles from a Trafalgar class submarine in the Mediterranean, in the country's second intervention in international military action in Libya.
"British armed forces, as authorised by the UN Security Council resolution 1973, carried out another coordinated mission in Libya tonight," Lorimer, a spokesman for the chief of defence staff, said in a statement overnight.
"As the RAF GR4 Tornados approached the target, further information came to light that identified a number of civilians within the intended target area. As a result the decision was taken not to launch weapons.
"This decision underlines the UK's commitment to the protection of civilians."
The military action is being taken under Thursday's UN resolution which authorised the use of "all necessary means" to protect civilians and enforce a ceasefire and no-fly zone against Moamer Kadhafi's forces.
Tripoli has reported dozens of deaths in the assault, which began with a French strike on Saturday afternoon, but the coalition disputes this.
Follow Emirates 24|7 on Google News.