Yemen holds rival demos as Saleh desertions mount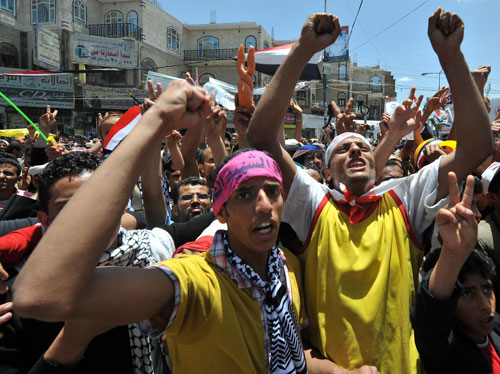 Protesters swarmed to rival demonstrations in Sanaa on Friday, packing the capital's streets as influential tribal and religious chiefs abandoned Yemen's increasingly isolated President Ali Abdullah Saleh.
Army and police were deployed in force to avoid clashes between the pro- and anti-Saleh camps, thousands of whom were gathered at squares a few kilometres (miles) apart, as on previous Fridays, the Muslim day of rest and prayers.
Yemen's influential tribal and religious leaders, siding with a 10-week-old uprising, on the eve of the latest showdown urged security forces to defect and called for the "immediate" ouster of Saleh.
The president "must respond to the demands of the peaceful revolt of the youth, starting with his immediate departure and that of all his aides in the military and security apparati," they said after a meeting late on Thursday.
The meeting, headed by the chief of the Hashed tribe to which the Saleh family belongs, also grouped most members of the ulema council of Muslim religious leaders in Yemen, which has a deeply tribal society.
Unless the president, who has been in power for three decades, steps down "quickly," the participants will "head up the demonstrations and sit-ins in all the provinces," the leaders said in a statement.
They urged soldiers and police "to join the peaceful revolt," hailing the defections which have already taken place.
In reference to a proposal from Yemen's oil-rich Arab neighbours in the Gulf, the leaders rejected any initiative that does not have Saleh's departure as its starting point.
Human Rights Watch, meanwhile, slammed the use of child soldiers in a Yemeni army division which has sided with anti-regime demonstrators in a crisis that has cost more than 125 lives.
"Child soldiers recruited by the Yemeni army are now being used by a breakaway unit to protect anti-government protesters," the New York-based HRW said.
It said HRW workers had come across "dozens of armed soldiers who appeared to be younger than 18 years old" in Sanaa since the often violent protests against Saleh erupted in late January.
Twenty of them, who gave their ages as between 14 and 16, told HRW they had served for up to two years in a division under the command of top military defector General Ali Mohsen al-Ahmar.
Before the anti-regime protests, they had been recruited to fight Shiite rebels in northern Yemen.
HRW urged the United States "to suspend military assistance to Yemen immediately unless the Yemeni government agrees to negotiate an action plan with the United Nations to end the use of child soldiers."
More than 125 people have been killed in clashes between anti-Saleh protesters and security forces loyal to the veteran president, on whom Washington has been counting to battle an Al-Qaeda wing in Yemen.
The United States has urged all sides to engage in an "urgently needed dialogue" on a political transition, backing off from its earlier support for Yemen's strongman.
Yemen clerics and tribal leaders want Saleh out now
Yemeni clerics and tribal leaders joined the opposition on Friday in calling for the immediate resignation of President Ali Abdullah Saleh, leaving the fate of a Gulf Arab mediation effort unclear.
Gulf foreign ministers, trying to ease the threat that Yemeni instability could pose to the region, have invited Saleh and his opponents to talks on a transfer of power to end a political standoff that risks devolving into violence.
But opposition parties rejected on Thursday the offer to join talks in Riyadh on a transfer of power in the Arabian peninsula state and set a two-week deadline for President Ali Abdullah Saleh to step down.
"We have renewed our emphasis on the need for speeding the process of (Saleh) standing down to within two weeks. Therefore we will not go to Riyadh," said Mohammed al-Mutawakkil, a prominent opposition leader.
He was speaking after an opposition delegation met Gulf ambassadors in Sanaa to seek clarifications on how soon Saleh could leave office.
In a statement, clerics and tribal chiefs said Saleh must go immediately, and demanded "the dismissal of all his relatives from the military and security apparatus of the state".
Diplomatic sources say talks in recent weeks on resolving the crisis, which began when protesters camped out in Sanaa in February demanding political reforms, have stalled over Saleh's desire for immunity from prosecution for himself and his family. The Saudi-led initiative, which Saleh had sought for weeks, appeared to give him this and he accepted the plan this week.
The statement from the clerics and tribal chiefs stated their "rejection of giving any assurances concerning the bloodletting". At least 116 people have died in protests which security forces have attacked with live fire and tear gas.
Saudi and Western allies of Yemen fear that a prolonged standoff in Yemen, where Saleh has faced two months of protests demanding his overthrow, could ignite clashes between rival military units and cause chaos that would benefit an active al Qaeda wing operating in the poor, mountainous country.
Mutawakkil, however, said the opposition could reach an agreement on granting assurances against prosecution, leaving the timing of a transfer as the major holdup.
"We didn't find in the clarifications that the ambassadors presented anything that meets our demands for an immediate removal," Mutawakkil said. "There was nothing new from the Gulf Cooperation Council ambassadors."
Saleh, who has already lost control of several provinces, has warned of civil war and the break-up of Yemen if he is forced to step aside before organising parliamentary and presidential polls over the next year.
Pro and anti Saleh forces were expected to rally supporters after Friday prayers amid fears violence could escalate in the impoverished country, half of whose 23 million people own a gun.
"This is proof that the opposition doesn't want dialogue or peaceful solutions, but want to come to power through chaos," Tarek al-Shami, a spokesman for Yemen's ruling party, said on Thursday of the opposition decision to turn away from the talks.
The government also accused forces belonging to defected General Ali Mohsen, whose troops have been protecting the protesters in Sanaa, of abducting two government soldiers from an area near the city's main protest zone.
Mohsen, a kinsman of Saleh, has welcomed the Gulf mediation but did not object to the opposition refusal. A source in Mohsen's office denied seizing the soldiers.
The drawn out standoff over a transition, however, has not appeared to affect the energy of street protesters who turned out for two straight days by the tens of thousands in the capital Sanaa despite driving rain.
A transition of power in Yemen could technically last until the next presidential election scheduled for 2013, a prospect the opposition finds unacceptable.
Saleh has offered new parliamentary and presidential elections this year as part of political reforms, but says he should stay in power to oversee the change or hand over to what he calls "safe hands".
Even before the start of the protests, inspired by the toppling of the Tunisian and Egyptian presidents, Saleh was struggling to quell a separatist rebellion in the south and cement a truce with Shi'ite Muslim rebels in the north.
Reuters
Follow Emirates 24|7 on Google News.