Bounding up Empire State Bldg step by step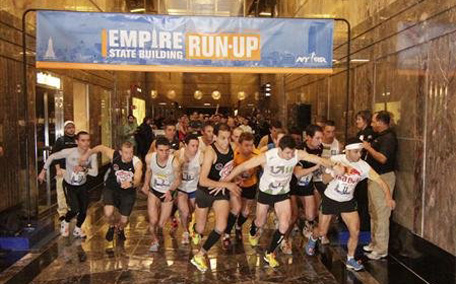 Taking the stairs instead of the elevator is standard advice to get fit but some athletes and charity runners take it to the extreme with the run up the 1,576 steps of the Empire State Building.

For runners who will be racing up the New York landmark on Wednesday, experts advise them to pace themselves.

"People get excited and blast through those stairs," said Eric Talve of the New York Road Runners, which organizes the Empire State Building Run-up, now in its 36th year.

"The main thing is to run smartly - not to get out too fast and tire out."

Research has shown that normal stair climbing is an aerobic exercise that works the lower body and core and can burn calories two to three times faster than walking briskly on a level surface.

Gary Liguori, an expert in exercise science with the American College of Sports Medicine, recommends at least three months of preparation, such as squatting, lunging, running and stair running to prepare for a climb like the Empire State Building.

"I don't think you can just hop in and do a run-up," Liguori said. "It carries more risk than (running on a) flat surface and is much higher intensity."

Rick Feinstein, 69, of Jericho, New York, did the run-up twice about 25 years ago and thinks it will be harder and slower for him this time.

A triathlete who runs and swims five times a week, Feinstein had planned to train for the so-called vertical marathon by running vertically.

"I had ambitious plans that once a week I would run up a 40-story building. It hasn't happened," said Feinstein, who also has run 33 New York City Marathons. "And now I figure it's too late. Like everything else, I'll have to tough it out."

Twenty-five years ago Feinstein charged to the deck in 14 minutes. These days he said a great time would be under 20 minutes and a realistic one between 22 and 24.

"Someone used to say running up the Empire State Building is the equivalent of a hard 2-mile (3.2 km) race," he said. "While it's a tough race, it's just one hill. And you have handrails you can reach out and grab on both sides."

Feinstein is looking forward to the run-up, although with some anxiety.

The 700 to 750 men and women expected to scale the building's 86 floors range from elite athletes who scurry up skyscrapers around the world, to marathoners going vertical, to the approximately 200 entrants running for charities.

With such a wide range of abilities, Talve said, preparation is an individual matter.

"You can practice on a Stairmaster but it's not quite the same," he said.

The Empire State Building Run-up was the brainchild of New York City Marathon founder Fred Lebow. The inaugural Run-Up in 1978 was won by Gary Muhrcke, who won the first New York City Marathon in 1970.

The fastest runners take about 10 minutes to climb the nearly quarter-mile (.4 km) of steps, round the Observation deck of the iconic skyscraper and finish the evening run.

"We have wide mix of people who apply," Talve said.

Feinstein calls it the quintessential New York City race.

"You start in the lobby and everyone races through this narrow doorway," he explained. "It's like running for the subway."
Follow Emirates 24|7 on Google News.