Sacrificial Eid Al Adha ram butts his owner to death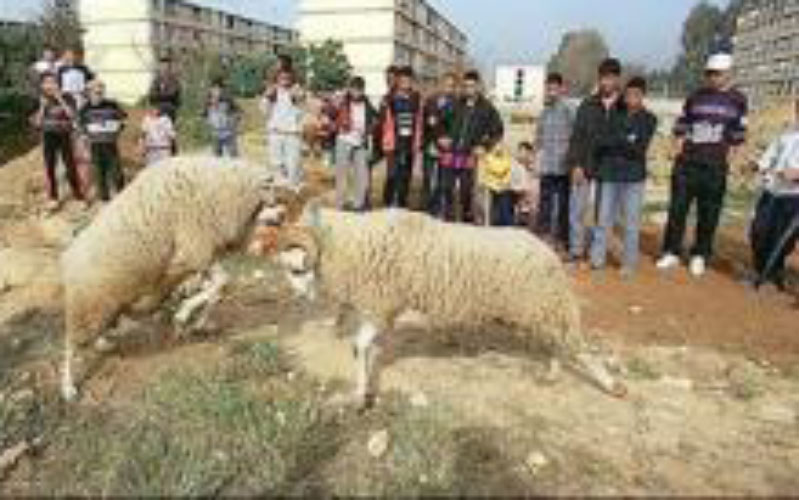 An Algerian man bought a big ram to sacrifice it on Eid Al Adha. Instead, the ram sacrificed the man when he butted him to death.
After performing the Eid dawn prayers in the northeastern port of Annaba, the man went back home, got a big knife and prepared the ram for slaughter.
"As he prepared it for sacrifice, the ram surprisingly butted the man, who fell on the ground and died minutes later," the Algerian Khabar newspaper said.
Wolf massacres 15 sheep in Saudi
A wolf waited for darkness to envelop a small Saudi village, sneaked into a farm and massacred 15 sheep before it was chased away by the farm owner.
Nazzal Al Hazmi said he was woken up by the sheep's screams as the wolf chased them and killed them one after another at the farm near the northern town of Arar.
"I chased it but it fled…many farms in the area have been targeted by wolves…they just kill a large number of sheep only to eat a little part of them," he said, quoted by the Saudi Arabic language daily Arar.
Picnic turns into tragedy in Saudi
A man enjoying a picnic with his wife and two sisters in Saudi Arabia plunged into tragedy when one of his sisters drowned before his eyes.
The two sisters were swimming in the southern rugged area of Wadi Beesh when they were pushed away by a strong current, prompting their brother to jump into the water to rescue them, according to Okaz newspaper.
"He succeeded in rescuing one sister but the other drowned and he could not find her body…civil defence divers called into the scene also failed to locate the body because of darkness but managed to pluck it out in the morning," the paper said, adding that the victim is around 20 years old.
Mosque preacher gets traffic fine while praying
A well-known Saudi mosque preacher was shocked when he was notified by the police that he had committed a road speeding offence on Friday at the same time when he was leading open-air prayers at the mosque.
Sheikh Abdul Muttalib al Qarshi, Imam (preacher) of the main mosque in the western town of Taif, said the date and time of the offence sent to him showed that he had committed it just while he was praying at the Taif Mosque.
"It's not just the date and time…the ticket showed I committed the offence in Riyadh while I was in Taif on that day," he told Sabq newspaper.
Qarshi said he has evidence that he was at mosque in Taif when the police camera, dubbed Saher, recorded that offence in the capital Riyadh.
Follow Emirates 24|7 on Google News.