'Wife-carrying' champion wins again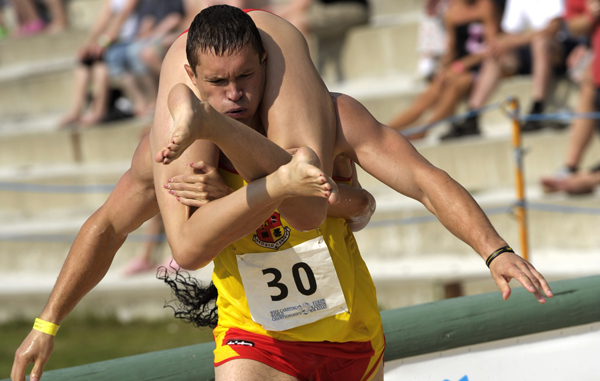 A Finnish pair have won the country's annual wife-carrying competition for the third year in a row, organisers said on Saturday.
Taisto Miettinen and Kristiina Haapanen defended their title in front of 6,500 spectators who turned out to watch the celebrated event in Sonkajarvi.
The 46-year-old lawyer, his partner's legs wrapped around his head, sprinted 253 metres, leaping hurdles and negotiating a water pool along the way, all in a time of one minute.
Less than a second behind them were Estonian rivals Alar Voogla and Kristi Viltrop while a Lithuanian couple came third.
The competition has its roots in the legend of local bandit Herkko Rosvo-Ronkainen who lived in the forest at the end of the 19th century and stole food -- and sometimes girls -- from nearby villages.
"The course was trickier this year due to the water obstacle, which was deeper," said Miettinen in a telephone call.
"The weather conditions were also particularly tough, 30 C (86 F) is too much for me," he said.
The secret of his success? Miettinen, who has taken part in the competition 13 times, likes to practice the course wearing ski boots to build up his leg muscles.
He and his "wife" -- for Haapanen is just a friend -- are the first pair in the event's 16-year history to win three times in a row.
This year 47 couples from 10 different countries took part, with Israel, Russia and the United States among the countries represented.
Follow Emirates 24|7 on Google News.