London 2012 countdown clock makes false start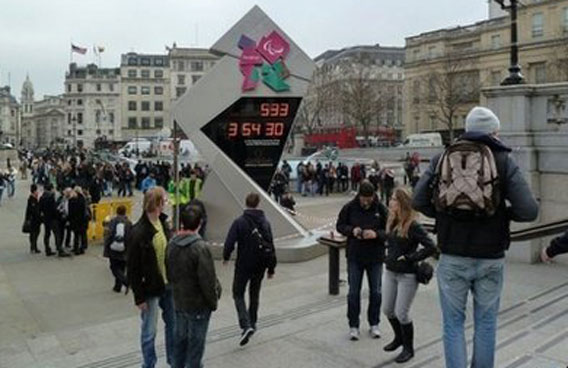 The electronic clock counting down the 500 days to the start of the 2012 London Olympics stopped on Tuesday in an embarrassing glitch less than a day after it was unveiled in a glitzy launch.
The steel clock made by Omega in London's Trafalgar Square ground to a halt at 500 days, seven hours, six minutes and 56 seconds, then began counting the wrong way before a technician arrived to repair it, an AFP reporter said.
Omega said in a statement: "We are obviously very disappointed that the clock has suffered this technical issue.
"The Omega London 2012 countdown clock was developed by our experts and fully tested ahead of the launch in Trafalgar Square.
"We are currently looking into why this happened and expect to have the clock functioning as normal as soon as possible."
Four British Olympic champions - rowers Pete Reed and Andy Hodge and sailors Iain Percy and Andrew Simpson - unveiled the clock on Monday to mark the 500-day countdown to the opening ceremony.
It is 6.5 metres (21.5 feet) high, five metres (16 feet) long and weighs around four tonnes. It took 10 people two days to assemble.
A spokesman for the London 2012 organisers joked: "Whilst the clock has stopped, and Omega is trying to sort it out, it does not give us additional time to stage the Games."
Tickets for the Olympics went on sale to the public on Tuesday.
Follow Emirates 24|7 on Google News.