Mortar bomb used as school bell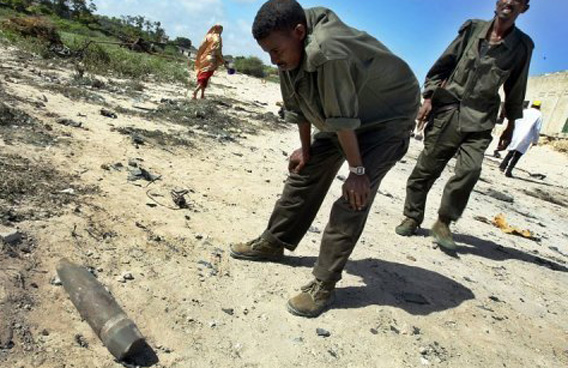 Anti-landmine activists in western Uganda were stunned to discover a primary school using an unexploded mortar bomb as a bell, the group's coordinator told AFP on Monday.

"It was a big shock. When we arrived at the school we even found one of the students striking it," Wilson Bwambale, coordinator of Anti-Mines Network Rwenzori, said.

Bwambale said his team visited the 350-pupil Ikobero Model primary school, one kilometre from Uganda's border with Democratic Republic of Congo, last week after being tipped off by a curious community leader.

"The bottom was hollow, that is why they used it as a bell, but the fuse at the top was still live," Bwambale said. "Fortunately no one hit it with enough (force) to explode the bomb."

Following the discovery, Bwambale said he called the shocked teachers to a meeting, where he was told that the school had been using the bomb as a bell for three years.

"We recovered it and put it in a safer place and recommended that the school look for something else that could be used as a gong," Bwambale said.

Bwambale explained that the region is littered with unexploded ordnance left over from government operations against a Muslim rebel insurgency in the area that ended around six years ago.

Last year, the same team visited a school where an unsuspecting teacher was keeping a hand grenade in one of the classrooms, Bwambale said.

Follow Emirates 24|7 on Google News.