Pay mortgage by turning your house into billboard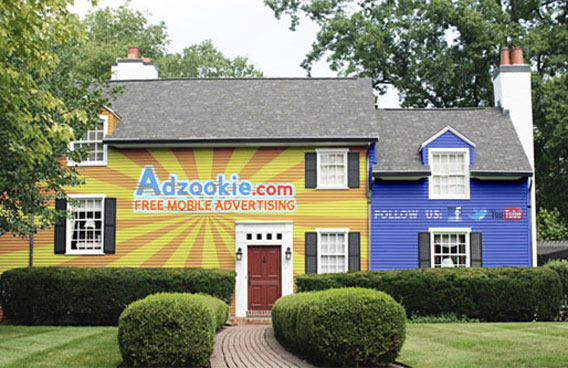 Mobile advertising firm Adzookie is pitching to pay your mortgages, but you'll have to use your home as a billboard for the company.
"In fact, paint is an understatement," the pitch reads. "We're looking for homes to turn into billboards."
Adzookie's website states that the company will pay the mortgage every month the house is painted.
Applicants must own their homes, not rent or lease them. The entire house will be painted except the roof, windows and awnings. It must stay painted at least three months and the agreement can be extended up to one year.
After that, or if the company cancels the agreement, the house will be painted back to the original colors.
UK Wired said applicants must also "like" Adzookie on Facebook as well as submit an application.
Adzookie launched the offer on its website on Tuesday. As of that afternoon, CNN Money reported, the startup firm already had more than 1,000 applicants including a church.
"It really blew my mind," Adzookie CEO Romeo Mendoza told CNN. "I knew the economy was tough, but it's sad to see how many homeowners are really struggling."
Adzookie specializes in smartphone advertising. The company states it targets websites that customers visit, letting its clients "zoom in" on where their customers are "most likely to respond."
CNN said the company employs eight people but is hoping to expand.
As far as the current campaign, its budget is $100,000, and Mendoza estimates it will take about $8,000 each house to do the painting. He did not offer an estimate as to how many houses will get painted.
Follow Emirates 24|7 on Google News.