Soap opera off air in Venezuela after Chavez complains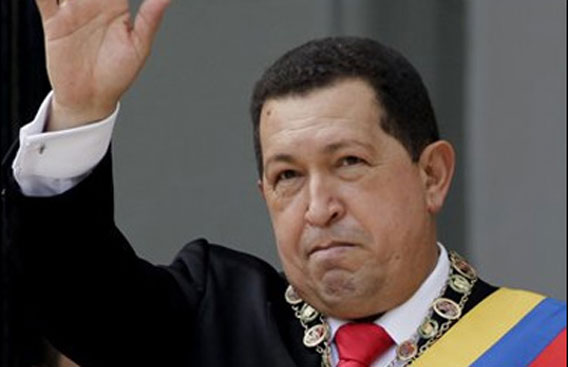 Venezuelan television station has stopped airing a Colombian soap opera after government regulators demanded its removal saying the program was offensive and denigrating to Venezuela as a country.
The soap opera "Chepe Fortuna" features an unscrupulous secretary named "Venezuela" who has a dog called "Little Hugo," an apparent reference to Venezuelan President Hugo Chavez.
"What disrespect for Venezuela!" Chavez said in a speech to lawmakers Saturday. "That soap is so horrible!"
The private TV channel Televen did not air the program after regulators demanded the show be dropped from the lineup.
"At least Televen agreed," Chavez said.
The character Venezuela, in contrast to her sister named Colombia, "is repeatedly characterized as associated with illegal activities, meddling and vulgarity," Venezuela's telecommunications regulatory agency Conatel said in a statement.
Chavez noted the program featured the dog named "Little Hugo" and said it's disrespectful to the country that the character Venezuela is portrayed as ill-mannered, overweight and "arrogant."
The regulatory agency accused the soap opera of promoting "political intolerance" and notified Televen on Thursday that it should pull it off the air.
Televen, whose majority shareholder is Omar Camero Zamora, didn't immediately respond to requests for comment. The channel maintains a neutral stance toward Chavez's socialist-oriented government.
The channel Venevision, which is owned by Gustavo Cisneros, and Televen both once took hardline stances against Chavez's government but in recent years have curbed their criticism.
The government in 2007 forced another anti-Chavez channel, RCTV, to halt broadcasts. That left Globovision as the sole stridently anti-Chavez channel left on the airwaves.
"Chepe Fortuna" is produced by Colombian network RCN. Miguel Angel Baquero, producer of "Chepe Fortuna," denied that the soap opera promotes intolerance.
Filming of the show began in 2009, when relations between the neighboring countries were at a particularly tense moment. The two governments have since smoothed over tensions and pledged to maintain respectful relations.
Follow Emirates 24|7 on Google News.