The world's 'ugliest dog' dies aged 15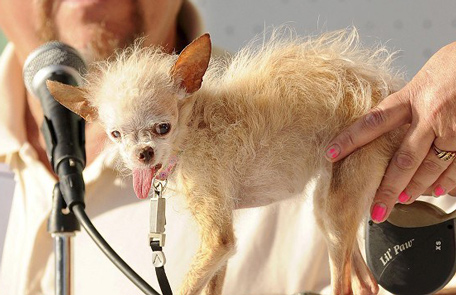 When a beloved pet dies, good manners usually dictate saying something nice about the departed companion.

But for recently-deceased dog Yoda, it was a definite compliment to say: "She sure was ugly."

Yoda won the 2011 World's Ugliest Dog contest at the Sonoma Marin Fair for her short tufts of hair, protruding tongue, and long, seemingly hairless legs.

The 15-year-old Chinese crested and Chihuahua mix died in her sleep in California on Saturday.

Owner Terry Schumacher told the Hanford Sentinel that she would miss "her funny little ways".

Ms Schumacher found the abandoned 1.8lb dog behind an apartment building and first mistook her for a rat.

The two went on to international fame, bagging a 1,000-dollar prize and a trophy 15 times the size of the winner.
Follow Emirates 24|7 on Google News.