Poles queue through the night to honour president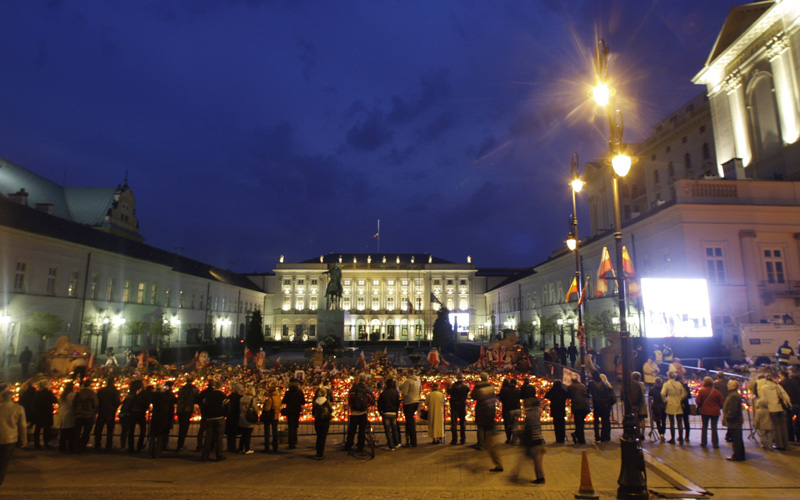 Mourners queued into the early hours of Wednesday to show their grief for Poland's first couple, killed in an air crash in Russia, as US President Barack Obama said he would attend their funeral.
The line of tearful people waiting to see the bodies of Polish president Lech Kaczynski and his wife Maria lying in state at the presidential palace in Warsaw stretched for more than a kilometre (over half a mile).
The bodies of 30 other victims were expected to be flown home later Wednesday, the first to be repatriated apart from the Kaczynskis since the presidential jet crashed in western Russia on Saturday in thick fog.
All 96 people on board were killed. Most were senior government and military figures en route to a memorial for the 70th anniversary of the massacre of thousands of Polish officers by Soviet forces in World War II.
"We all wanted to pay our last respects. We have been waiting here for four hours and still have a way to go but it's worth the effort," carpenter Boguslaw Siertien, 46, who came to the palace with seven family members, told AFP.
The White House said Obama would attend the Kaczynskis' funeral on Sunday at Wawel castle in the southern Polish city of Krakow, the resting place of kings and other major figures from Poland's often tragic history.
"The president will travel to Krakow to express the depth of our condolences to an important and trusted ally, and our support for the Polish people, on behalf of the American people," White House spokesman Robert Gibbs said.
French President Nicolas Sarkozy will also come to the funeral and Russian President Dmitry Medvedev may attend, his spokesperson said.
But in a rare public breach of the national unity seen in Poland since Kaczynski was killed, several hundred people gathered in Krakow late Tuesday in protest at the decision to lay him to rest there.
They chanted "Not in the Wawel" and waved banners marked "Is he fit to be a king?"
The conservative nationalist Kaczynski, in office since 2005, was a divisive figure at home and abroad, but the mood since his death has been one of grief across the political spectrum, both at home and abroad.
Interim president Bronislaw Komorowski, the former parliamentary speaker appointed after the accident, has said he could set a date Wednesday for new presidential elections but there has been no confirmation.
Poland is due to hold presidential elections by June. A presidential ballot had been due by October with Komorowski, a liberal, expected to run against Kaczynski.
The crash has also brought a rapprochement between bitter foes Poland and Russia, fuelled over the years by disagreements over the very massacre that Kaczynski's delegation was on its way to commemorate.
Prime Minister Vladimir Putin has meanwhile personally taken charge of the crash probe and the country has made open displays of grief over the accident.
Russian investigators have pointed to pilot error, while air traffic controllers say the crew of Kaczynski's ageing jet refused three times to heed advice to divert to another airport because of the fog.
The Russian controllers also suggested language barriers had contributed to the crash near the city of Smolensk. Investigators have ruled out a fire or explosion as the cause.
Follow Emirates 24|7 on Google News.