Giovani heading for Spurs exit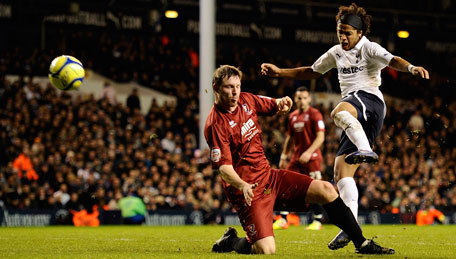 Tottenham manager Harry Redknapp admitted Giovani dos Santos is likely to leave the club this month despite the Mexico international's performance in the FA Cup win over Cheltenham.
Giovani set up the first goal in the 3-0 win at White Hart Lane, had a hand in the second and scored the third himself as Spurs booked as place in the fourth round.
But it was a rare start from the 22-year-old, who turned down a move to Udinese during the last transfer window and has had his attitude questioned by Redknapp.
"He's got talent but has to work harder in training and get fitter," said the Spurs manager.
"When he does that he has a chance. He has had a real opportunity to play here if he's at it, but there are lots of good players here.
"He's looking to move to be honest. We had a move last summer, but he didn't want to go to Italy, he wanted to go to Spain.
"We'll see what happens in this window. I think he'll probably move if we get the right offer, but we have to get the right offer.
"He's an international player and it was a real big offer last year. I'm sure the chairman would not want to let him go cheaply."
While Redknapp is prepared to let Giovani leave, other fringe players such as Niko Kranjcar and Steven Pienaar are needed as the club look to maintain pressure on Manchester City and Manchester United in the Premier League title race.
They were given their chance against Cheltenham, while Michael Dawson and Aaron Lennon returned from injury.
Instead of selling his unsettled players, Redknapp wants to add numbers to his squad and has revealed his interest in Blackburn defender Chris Samba.
"I like Samba, he is a good player. I wouldn't want to say it's an impossibility," he said.
Redknapp, however, ruled out a move for prolific Huddersfield striker Jordan Rhodes, despite sending two of his backroom staff to watch the Scotland international this week.
"I'm sure he could play in the Premier League one day, there is no doubt about that, but he is not a player we are looking to bring here," Redknapp said.
Spurs were put on their way to victory against Cheltenham when Giovani lofted the ball over the goalkeeper and Jermain Defoe tapped home from a yard out.
"Jermain said it was going wide, but I don't think it was," Redknapp joked. "He is a goalscorer and wants to score all the time."
Giovani then played Defoe through before the interval, with the move ending up with Roman Pavlyuchenko slotting home the second.
The scoring was wrapped up two minutes from full-time when Giovani's shot deflected off Steve Elliott and looped in.
"It was important for people like Steven Pienaar and Niko Kranjcar to get a game, and people coming back like Aaron Lennon and Michael Dawson," added Redknapp.
Cheltenham boss Mark Yates insisted he had no regrets over Darryl Duffy, his top scorer this season, starting on the bench.
He said: "I felt if I played him, I would have to play someone slightly out of position against international players.
"I didn't want to do that. In our own league we get more time on the ball and Darryl understood that. He knew he would get around 35 minutes to impose himself on the game."
Yates was pleased with the performance, adding: "We tried to keep it tight and showed we have decent players. They can be really proud but we are disappointed because we had a few chances and didn't put them away.
"Some have aspirations of going higher and the only way they are going to do that is days like this."
Follow Emirates 24|7 on Google News.