Suarez 'apologises' for 'negro' comments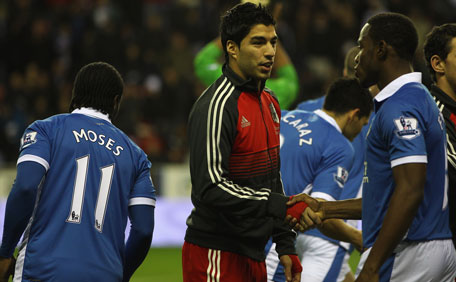 Liverpool striker Luis Suarez on Thursday issued an apology after receiving an eight-match ban for racially abusing Patrice Evra, but stopped short of saying sorry to the Manchester United defender.
Liverpool said Tuesday they had accepted Suarez's ban for calling Evra a "negro" but the player issued a statement the same day maintaining his innocence.
But in another statement issued on Thursday, Suarez said: "I never, ever used this word in a derogatory way and if it offends anyone then I want to apologise for that.
"I told the panel members that I will not use it again on a football pitch in England," he added.
The Uruguayan international served the first match of his ban during Tuesday's 3-0 Premier League defeat to Manchester City.
In the 115-page written ruling from the case released last Saturday, the FA panel said Suarez had given "unreliable" and "inconsistent" evidence during the hearing, where elements of his testimony were "incredible."
A Liverpool statement released on Tuesday maintained that the case against Suarez remained "highly subjective" and was "based on an accusation that was ultimately unsubstantiated."
However the club said it wished to draw a line under the affair despite disagreeing with the verdict.
"There are ultimately larger issues than whether or not Luis Suarez has been treated fairly by the Football Association in this matter," it said.
Suarez insisted in another statement issued Tuesday he had done no wrong.
"I am very upset by all the things which have been said during the last few weeks about me, all of them being very far from the truth," he said.
"But above all, I'm very upset at feeling so powerless whilst being accused of something which I did not, nor would not, ever do.
"In my country, 'negro' is a word we use commonly, a word which doesn't show any lack of respect and is even less so a form of racist abuse. Based on this, everything which has been said so far is totally false.
"I will carry out the suspension with the resignation of someone who hasn't done anything wrong and who feels extremely upset by the events," he added.
Follow Emirates 24|7 on Google News.