Developers of Dynamic Tower keen to put project back on track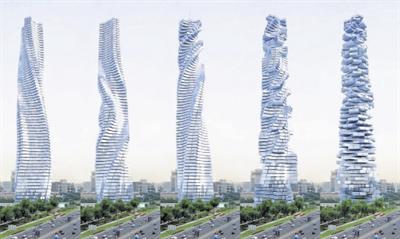 The developers of Dubai's Dynamic Tower, where each of the 80 floors will be able to rotate independently, are keen to put the project back on track.
The British firm is also working on unveiling similar towers across the Gulf countries, Emirates 24|7 has learnt.

"The Dynamic Tower in Dubai is on hold due to the current situation. Of course, Dr David Fisher and our team would be delighted to have the tower in Dubai on track," Simona Casati, Press Office & Communication Manager, Dynamic Architecture Group, said in an emailed response.

The company has not secured funding for the project in Dubai and did not sell any apartment despite receiving "many requests from all over the world."

"Situation will tell when construction for the project will begin."
The Dynamic Tower design is made up of 80 pre-fabricated apartments, which will spin independently of one another and take between one and three hours to make a complete rotation.
The 420-metre building's apartments would spin a full 360 degrees, at voice command, around a central column by means of power-generating wind turbines.
The first 20 floors will be for retail space, the next 15 for a hotel, the next 35 floors will have residential apartments and the top 10 floors will have luxury villa-style apartments.
In response to a question on whether the company was planning to launch similar towers across the Gulf states, especially in Saudi Arabia and Qatar, Casati said: "Yes, there are plans to do so."

"In several countries the Dynamic Tower is now in the pipeline. A few countries have offered land for free, among them are very important world capitals," she added without giving further details.

In June 2008, at the launch of the tower in New York, architect David Fisher said: "It's the first building that rotates, moves, and changes shape. This building never looks the same, not once in a lifetime."
Follow Emirates 24|7 on Google News.