World's first rotating tower not to come up in Dubai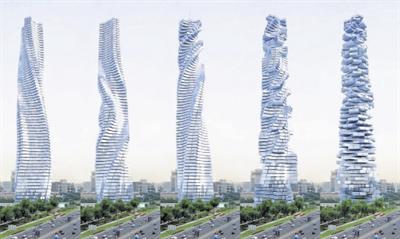 The world's first rotating tower will not be coming up in Dubai, but in London, construction on which will commence this year, Emirates 24|7 can reveal.
London-based Dynamic Group is, however, optimistic that the Dubai project will commence as and when the market conditions allow it.
"We will announce the start of the construction in London in due time. Most probably within the year," the developer said in an emailed statement.
Whilst in an email sent to investors worldwide, it said: "We are now close to starting construction on the first building in motion in London, which will become a world landmark.
"This building will be a 'Centre of Excellence' and an icon of future lifestyles and sustainability."
The company website lists the London Dynamic Project as of profound relevance to a city reclaiming its role of 'Center of the World'.
"As the city prepares to host for the third time the Summer Olympics in 2012, it wishes to bring this icon of future life to London, receiving its own rotating tower to serve as the landmark for the event, and an inspiration for generations to come," it adds
Asked about its Dubai plan, the company said: "As far as Dubai - we will love to know... and we hope as soon as the conditions will allow it.
In March 2011, Emirates 24|7 reported that the developers of Dubai's Dynamic Tower, where each of the 80 floors will be able to rotate independently, are keen to put the project back on track.
"The Dynamic Tower in Dubai is on hold due to the current situation. Of course, Dr David Fisher and our team would be delighted to have the tower in Dubai on track," Simona Casati, Press Office & Communication Manager, Dynamic Architecture Group, had said
The latest market insight report from Kay and Co, a London-based property market research specialist, shows that Middle Eastern applicants are up 50 per cent compared to the same time last year, accounting for 30 per cent of all sales applicants in the first three months of 2011
The report adds that the number of buyers originating from the Middle East has significantly increased in the wake of the Egyptian crisis and the wider unrest in the region.
Buyers are predominantly interested in properties with asking prices of over £5 million (Dh29 million).
Follow Emirates 24|7 on Google News.