Coates' right-hand man apologises for threats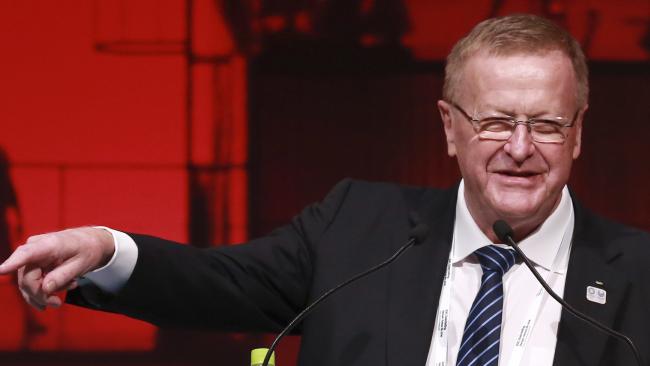 Australian Olympic Committee boss John Coates' right-hand man has apologised for threatening the organisation's former chief executive Fiona de Jong, the AOC said Tuesday.
An independent committee of former top judges brought together to investigate a complaint by de Jong "severely reprimanded AOC media director Mike Tancred last month for his conduct towards her.
De Jong, who left the AOC in December, had outlined cases of alleged workplace bullying since 2004 in the organisation -- front-page claims that rocked Coates' ultimately successful bid to be re-elected last month.
Tancred was at the heart of the matter and admitted in a statement Tuesday he phoned de Jong in December last year and spoke to her "in an intimidating manner, and made threats to damage her and her reputation by publishing allegations about her".
"I acknowledge that my conduct was hurtful, inappropriate and inconsistent with the values of the AOC," added Tancred, who had offered to apologise publicly as part of the independent committee's deliberations.
"I also accept that I caused Ms de Jong considerable distress.
"I wish to record that I have made an unqualified apology to Ms de Jong for my conduct and its impact on her."
Tancred's apology comes after a stormy period for the AOC, with long-time chief Coates fighting off a well-backed bid by challenger Danni Roche to remain as the organisation's president.
Coates, who has been at the helm for 27 years, won a secret ballot 58-35 last month to continue in his role, but admitted the AOC brand was "damaged" by the acrimonious campaign.
Dubbed the most powerful individual in Australian sport, Coates has been AOC chief since 1990 and a vice-president of the International Olympic Committee since 2013.
He has declared this will be his last three-year term of office and vowed to step down after the 2020 Tokyo Olympics.
Roche, an Atlanta Olympics field hockey gold medallist and board member of the federal government-backed Australian Sports Commission, had campaigned for change in the AOC.
Follow Emirates 24|7 on Google News.