Bangladesh thrash Pakistan to seal historic series win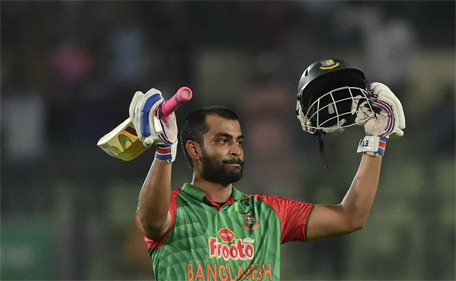 Tamim Iqbal smashed a second consecutive century to steer Bangladesh to their first ever one-day series win over Pakistan with an emphatic seven-wicket victory in Dhaka on Sunday.

The left-handed opener hit an unbeaten run-a-ball 116 as the hosts, chasing Pakistan's 239 for six, cruised home in the 39th over to take an unbeatable 2-0 lead in the three-match series.

The new-look Pakistan, with just four World Cup players in their ranks and led for the first time in a series by Azhar Ali, needed a massive improvement after their 79-run defeat in Friday's opening match.

But a top-order collapse pushed them in a corner and left the tourists seeking a consolation win in the third and final match at the same Sher-e-Bangla stadium in Dhaka on Wednesday.

Bangladesh captain Mashrafe Mortaza, who had missed the opening match due to a one-match ban for his team's slow over-rates at the World Cup, wanted his team to push for a 3-0 whitewash.

"The boys are obviously very happy, but the job is not done yet because we have one more match to go," he said. "This one was almost a perfect match for us and we want to continue like this.

"Tamim and Rahim have been brilliant with the bat in this series and Shakib has led from the front with the ball."

Pakistan's Ali said the two games so far were were a learning exercise for his young, inexperienced team.

"I don't think 240 was enough on this good wicket and that was because we did not bat well at the top," he said.

"But as everyone knows, Pakistan are in the process of rebuilding. The boys will learn from this and help them come back strongly. We have to trust the younger players and be patient with them."

Saad Nasim and Wahab Riaz hit unbeaten half-centuries to lift Pakistan to a seemingly competitive score after they were reduced to 77-5 by the 22nd over of the day-night international.

Tamim, who made 132 in the previous match, made a mockery of the target after racing to his half-century off just 31 balls.

Junaid Khan removed fellow-opener Soumya Sarker cheaply for 17, but Tamim calmed the home supporters' nerves with three successive boundaries off both Saeed Ajmal and Wahab Riaz.

By the time Ajmal bowled Mahmdullah for 17 to give Pakistan their second wicket, Bangladesh had taken control of the game by reaching 100 in just 14 overs.

Mushfiqur Rahim, who also hit a century in the first game, continued his good form with 65 off 70 balls as Bangladesh ended their series drought against Pakistan with 71 ball deliveries to spare.

Shakib Al Hasan hit the winning run soon after Tamim, who struck 17 fours and six, completed his sixth one-day century by gliding Junaid to fine-leg.

Earlier, Nasim was unbeaten on 77 in only his second international and Riaz struck 51 off 40 balls as Pakistan crossed the 200-run mark on the slow pitch.

Nasim began the rescue act by adding 77 for the sixth wicket with Haris Sohail, who made 44.

Ali and Sarfraz Ahmed put on an opening stand of 36 before the top-order crumbled in dramatic fashion.

Mortaza, playing his 150th one-day international, claimed one wicket when he took a return catch to end Sohail's resistance.

Pakistan will also play a Twenty20 match and two Tests on their month-long tour of Bangladesh.

Scoreboard:

Pakistan:

Azhar Ali c Rahim c Shakib 36
Sarfraz Ahmed c Soumya b Rubel 7
Mohammad Hafeez b Sunny 0
Haris Sohail c & b Mortaza 44
Fawad Alam b Nasir 0
Mohammad Rizwan lbw b Shakib 13
Saad Nasim not out 77
Wahab Riaz not out 51
Extras (b2, lb2, w5, nb2) 11
Total (for six wickets, 50 overs) 239
Fall of wickets: 1-36 (Sarfraz), 2-37 (Hafeez), 3-58 (Azhar), 4-59 (Fawad), 5-77 (Rizwan), 6-154 (Haris)
Bowling: Mortaza 8-0-52-1 (1nb), Taskin 8-1-41-0 (1w), Sunny 10-0-41-1 (1w), Rubel 7-2-27-1 (1w, 1nb), Nasir 5-0-17-1 (1w), Shakib 10-0-51-2, Mahmudullah 2-0-6-0 (1w).

Bangladesh:

Tamim Iqbal not out 116
Soumya Sarkar c Sarfraz b Junaid 17
Mohammad Mahmudullah b Ajmal 17
Mushfiqur Rahim c Fawad b Rahat 65
Shakib Al Hasan not out 7
Extras (lb2, w15, nb1) 18
Total (for three wickets, 38.1 overs) 240
Fall of wickets: 1-22 (Sarkar), 2-100 (Mahmudullah), 3-218 (Rahim).
Bowling: Junaid 9-0-61-1 (4w), Rahat 7-0-57-1 (2w), Wahab 8-0-36-0 (7w, 1nb), Ajmal 9.1-1-49-1 (1w), Azhar 3-0-20-0 (1w), Nasim 2-0-15-0

Bangladesh won by seven wickets, lead three-match series 2-0
Toss: Pakistan
Umpires: Enamul Haque (BAN) and Nigel Llong (ENG)
TV umpire: Ruchira Palliyaguruge (SRI)
Match referee: Jeff Crowe (NZL)

Bangladesh innings

Bangladesh have romped to a a historic ODI series win over Pakistan after winning the second match by seven wickets in Dhaka on Sunday.

Chasing a target of 240, Bangladesh made 240-3 in 38.1 overs riding on a second consecutive unbeaten century by Tamim Iqbal (116) to lead the three-match series 2-0.

Mushfiqur Rahim chipped in with a breezy 65 featurinng in a stand of 118 with Tamim.

Earlier, battling unbeaten half centuries from Saad Nasim (77) and Wahab Riaz (51) helped Pakistan recover from a dismal 77-5 to make 239-6.

Nasim held the innings together to notch his maiden ODI half century being involved in partnerships of 77 for the sixth with Haris Sohail (44) and 85 for the unbroken seventh with Riaz who smashed five boundaries and two sixes in his quickfire knock.

Mushfiqur falls with 22 needed to win ending a magnificent partnership of 118. Ban 218-3, 36.2 overs.

Mushfiqur Rahim c Fawad Alam b Rahat Ali 65 (70b 8x4 1x6)

Tamim tickles Junaid to fine leg for a boundary to complete his sixth ODI century and swings his bat in delight. Ban 218-2, 36 overs.

Mushfiqur pummels Nasim to midwicket for two consecutive boundaries. Ban 210-2, 35 overs.

Mushfiqur slams a boundary off Wahab to complete his half century. Ban 192-2, 32 overs.

Play has been suspended momentarily because of a floodlights issue with Bangladesh needing 57 off 121 balls. Ban 183-2, 29.5 overs.

Mushfiqur is on fire cracking three consecutive boundaries off Rahat. Ban 145-2, 22 overs.

Mushfiqur blasts a six off Ajmal as Bangladesh race towards the target. Ban 122-2, 19 overs.

Ajmal strikes for the first time since his return to international castling Mahmudullah who attempts to sweep him. Ban 100-2, 14.1 overs.

Mahmudullah b Saeed Ajmal 17 (28b 2x4 0x6)

Tamim clubs three consecutive boundaries off Wahab to race to his 29th ODI fifty off just 31 balls. Ban 83-1, 10 overs.

Ajmal goes for 14 in his first over with Tamim slamming three consecutive boundaries. Ban 70-1, 9 overs.

Rahat is taken to task for his wayward by Tamim who whips three boundaries on the leg side. Ban 51-1, 6 overs.

Mahmudullah gets going cracking a couple of boundaries off Junaid. Ban 38-1, 5 overs.

Junaid has the last laugh after being hit for three consecutive boundaries by Sarkar. Ban 22-1, 2.5 overs.

Soumya Sarkar c Sarfraz Ahmed b Junaid Khan 17 (11b 4x4 0x6)

Sarkar gets his first boundary slamming Rahat through the covers. Ban 10-0, 2 overs.

Tamim comes down the wicket and punches Junaid through the gap on the off for the first boundary of the innings. Ban 5-1, 1 over.

Pakistan innings

Battling unbeaten half centuries from Saad Nasim (77) and Wahab Riaz (51) helped Pakistan recover from a dismal 77-5 to make 239-6.

Nasim held the innings together to notch his maiden ODI half century being involved in partnerships of 77 for the sixth with Haris Sohail (44) and 85 for the unbroken seventh with Riaz who smashed five boundaries and two sixes in his quickfire knock.

Riaz gets cracking with a couple of boundaries off Rubel. Pak 165-6, 40 overs.

Nasim completes his maiden ODI fifty by scrambling for a single.

Mortaza breaks the 77-run partnership with Sohail's resistance ends chipping a return catch. Pak 154-6, 39 overs.

Haris Sohail c and b Mashrafe Mortaza 44 (61b 1x4 1x6)

Sohail hits the first six of the match lofting Shakib down the ground. Pak 149-5, 38 overs.

Nasim cracks consecutive boundaries off Mortaza. Pak 121-5, 35 overs.

The Pakistan procession continues as Shakib traps the in-form Rizwan leg before. Pak 77-5, 21.3 overs.

Mohammad Rizwan lbw b Shakib Al Hasan 13 (22b 2x4 0x6)

Pakistan are in deep trouble as Alam goes for a duck with Nasir rattling his stumps. Pak 59-4, 16.5 overs.

Fawad Alam b Nasir Hossain 0 (6b 0x4 0x6)

Shakib strikes with his third delivery taking the big wicket of the Pakistan captain who attempts a reverse sweep. Pak 58-3, 15.3 overs.

Azhar Ali c Mushfiqur Rahim b Shakib Al Hasan 36 (60b 5x4 0x6)

Pakistan are in a spot of bother as Hafeez goes for a duck beaten all ends up by Sunny. Pak 37-2, 9 overs.

Mohammad Hafeez b Arafat Sunny 0 (6b 0x4 0x6)

Rubel strikes with his first delivery with the struggling Sarfraz nicking behind. Pak 36-1, 7.1 overs.

Sarfraz Ahmed c Soumya Sarkar b Rubel Hossain 7 (11b 0x4 0x6)

Azhar gets into his stride cracjubg Taskin through point for a couple of boundaries. Pak 20-0, 5 overs.

Azhar hits the first boundary of the match pulling Mortaza over midwicket in the first over.

Pakistan are unchanged while Abul Hasan makes way for skipper Mashrafe Mortaza who returns after serving a one-match suspension.

Playing XI

Bangladesh: Tamim Iqbal, Soumya Sarkar, Mahmudullah, Mushfiqur Rahim, Shakib Al Hasan, Sabbir Rahman, Nasir Hossain, Mashrafe Mortaza, Arafat Sunny, Taskin Ahmed, Rubel Hossain

Pakistan: Azhar Ali, Sarfraz Ahmed, Mohammad Hafeez, Haris Sohail, Mohammad Rizwan, Fawad Alam, Saad Nasim, Wahab Riaz, Junaid Khan, Saeed Ajmal, Rahat Ali

Pakistan have won the toss and opted to bat first in the second ODI in Dhaka on Sunday.

Preview

Pakistan seam bowler Ehsan Adil will miss the ongoing one-day international series in Bangladesh due to a hamstring injury and has been replaced by Umar Gul, the country's cricket board said on Saturday.

"Ehsan Adil out of Bangladesh series due to hamstring injury. Umar Gul will replace him," the Pakistan Cricket Board said on Twitter.

Adil was not part of the Pakistan team which went down by 79 runs in the first of the three matches, their first ODI defeat by Bangladesh in 16 years.

Right-arm paceman Gul, who has played 125 ODIs, is himself returning from an ankle injury that kept him out of the World Cup in Australia and New Zealand.

Left-arm spinner Zulfiqar Babar was named as a replacement on Friday for injured leg-spinner Yasir Shah.

Adil's injury is the fourth setback for Pakistan after batsman Sohaib Maqsood (arm fracture) and fast bowler Sohail Khan (back injury) were ruled out before the tour began, while leg-spinner Yasir Shah injured his thumb in a practice match prior to the one-day series.

Hosts Bangladesh hammered Pakistan by 79 runs in the first of three one-day internationals of the tour on Friday in Dhaka. Ehsan was not a part of the playing XI in the opening match of the series.

"Adil is out of Bangladesh one-day series due to hamstring injury and will be replaced by Umar Gul," the Pakistan Cricket Board announced.

Adil, 22, will return home later Saturday while Gul will fly to Dhaka the same night.

Gul was named earlier for the Twenty20 to be played on April 24.

Team manager Naveed Cheema told AFP in Dhaka that Adil's injury had worsened.

"Adil had a minor injury while coming to Bangladesh, we thought he would be fine. Today we examined him again and found that he has aggravated the hamstring injury," Cheema said.

"The physio is of the opinion that he cannot recover sufficiently in the next seven days, so we are sending him back."

The second and third one-day internationals will be held on Sunday and Wednesday. The one-dayers will be followed by two Tests.


Follow Emirates 24|7 on Google News.