Biggest upset: Ireland crush England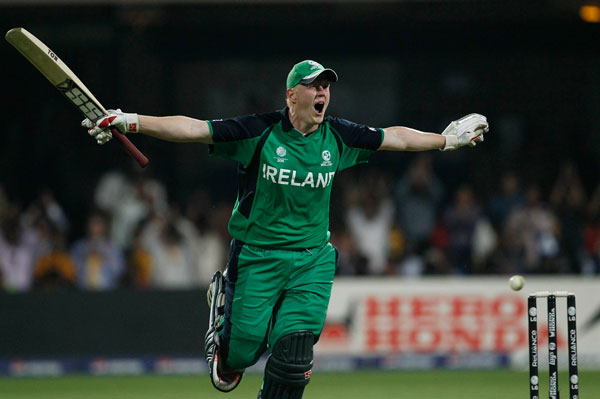 Ireland's Kevin O'Brien, who plays his cricket for the Railway Union Club, on Wednesday stood head and shoulders above some of the sport's greatest names after guiding his country to one of the biggest World Cup shocks with victory over the old enemy England.
The 26-year-old Dubliner almost single-handedly demolished Andrew Strauss's Ashes winners with comfortably the quickest ever century in the tournament, racing to three figures in 50 balls of pure smash and plunder.
Although he was out for 113 shortly before Ireland's moment of glory, their first win over England, by then the damage had been done and his team mates passed the massive 328 target with three wickets and five balls to spare.
No team has ever scored more to win a World Cup match batting second.
It will be long savoured by the scattering of Irish - and even English - fans privileged to witness it as one of the finest one-day innings of all time, never mind the 36-year-old World Cup.
It was a rare spot of bright news for the Irish, who last week kicked out their government over its role in the country's economic decline. Many Irish have never seen a cricket match, but that did not stop them celebrating.
O'Brien, who played a year's cricket with Nottinghamshire before returning to play full-time for the Railway Union Cricket Club in Dublin, had reached the crease when his team were all but finished as a threat to an England team chasing their second win of this year's tournament.
As he explained later, at 111-5 and still a distant 217 runs from their target with almost half their 50 overs used up, there was only one thing for it for this brawny mid-order batsman and that was to start slogging.
So he did, to all parts of the ground with none of the English bowlers, who had so recently frightened the daylights out of Australia in Ashes, spared from the onslaught.
He brought up his century with no less than six sixes including one 102-metre smite over long on and 13 fours.
He needed 16 fewer balls than the previous swiftest, Australian Matthew Hayden, to complete his century and left a string of other cricketing master blasters from the past in his wake in the record books too including Indian Kapil Dev (72) and Adam Gilchrist (72).
Afterwards, O'Brien was still trying to make sense of it after John Mooney's winning blow for four in the final over off Jimmy Anderson.
"When you are 111-5 I just said to myself, we could just potter around and get 220 off 50 overs for eight or nine and the game would have been pretty boring to watch and it wouldn't have been anything to watch on TV," a grinning O'Brien said clutching his man-of-the-match trophy.
"I just chanced my arm and said I'm going to be as positive as I can and I got a few away and didn't look back really."
The result more than matched another famous cricketing World Cup victory for the Irish in the last edition in 2007 in the Caribbean when they ousted the 1992 winners Pakistan in a huge shock in Jamaica.
Within hours of that result, the Pakistan coach Bob Woolmer was found unconscious in his hotel room and pronounced dead later in a Kingston hospital, an event which cast a pall over the entire competition.
On Wednesday, Strauss, meanwhile, looked stunned with his team's World Cup hopes now hanging by a thread after a tied result against India and a close win over Netherlands.
They had made a more than respectable 327-8 with Jonathan Trott top-scoring with 92 off as many balls but that innings was long forgotten as O'Brien set to work.
"Kevin O'Brien came in and chanced his arm and he played very, very well and hit some great shots," said Strauss.
"It was a great performance from Ireland. I'm not going to take anything away from them. They thoroughly deserved their victory. We've got to go away, lick our wounds and make sure we come back and play better."
His opposite number, meanwhile, Williams Porterfield, planned to celebrate with a "few quiet beers" a victory he described as the greatest in Irish cricket.
But Porterfield was probably correctly assuming that his countrymen in Dublin - especially in the vicinity of the Railway Club in Sandymount - would be celebrating long into a memorable sporting night for Ireland.
Scorecard
England innings
A. Strauss b Dockrell 34
K. Pietersen c N. O'Brien b Stirling 59
J. Trott b Mooney 92
I. Bell c Stirling b Mooney 81
P. Collingwood c K. O'Brien b Mooney 16
M. Prior b Johnston 6
T. Bresnan c Johnston b Mooney 4
M. Yardy b Johnston 3
G. Swann not out 9
Extras: (b-1 lb-2 w-20) 23
Total: (for eight wickets; 50 overs ) 327
Did not bat: S. Broad, J. Anderson.
Fall of wickets: 1-91 2-111 3-278 4-288 5-299 6-312 7-317
8-327
Bowling: Rankin 7-0-51-0 (4w), Johnston 10-0-58-2, Cusack
4-0-39-0 (1w), Dockrell 10-0-68-1 (5w), Mooney 9-0-63-4 (1w),
Stirling 10-0-45-1.
Ireland innings
W. Porterfield b Anderson 0
P. Stirling c Pietersen b Bresnan 32
E. Joyce st Prior b Swann 32
N. O'Brien b Swann 29
G. Wilson lbw b Swann 3
K. O'Brien run out 113
A. Cusack run out 47
J. Mooney not out 33
D. Johnston not out 7
Extras (b 5 lb 16 w 12) 33
Total (for seven wickets; 49.1 overs) 329
Did not bat: G. Dockrell, B. Rankin
Fall of wickets: 1-0 2-62 3-103 4-106 5-111 6-273 7-317
Bowling: Anderson 8.1-1-49-1 (1w), Broad 9-0-73-0 (2w),
Bresnan 10-0-64-1 (2w), Yardy 7-0-49-0 (2w), Swann 10-0-47-3,
Collingwood 5-0-26-0

England won the toss and elected to bat.
Result: Ireland won by three wickets
World Cup results, standings, fixtures
Results, standings and fixtures in the 2011 World Cup (times in GMT; top four in each group qualify for quarter-finals):
Wednesday
Group B
Standings (played, won, lost, tied, no result, points, net run rate)
Group A
Sri Lanka 3 2 1 0 0 4 +2.663
Pakistan 2 2 0 0 0 4 +2.160
Australia 2 2 0 0 0 4 +1.813
New Zealand 2 1 1 0 0 2 +1.507
Zimbabwe 2 1 1 0 0 2 +0.840
Canada 2 0 2 0 0 0 -3.850
Kenya 3 0 3 0 0 0 -4.825
Group B
India 2 1 0 1 0 3 +0.870
England 3 1 1 1 0 3 +0.035
West Indies 2 1 1 0 0 2 +1.879
South Africa 1 1 0 0 0 2 +0.766
Ireland 2 1 1 0 0 2 -0.207
Bangladesh 2 1 1 0 0 2 -0.600
Netherlands 2 0 2 0 0 0 -2.275
Still to play:
Mar 3 : South Africa v Netherlands, Mohali (0400)
Mar 3 : Pakistan v Canada, Colombo (0900)
Mar 4 : Bangladesh v West Indies, Dhaka (0830)
Mar 4 : New Zealand v Zimbabwe, Ahmedabad (0400)
Mar 5 : Sri Lanka v Australia, Colombo (0900)
Mar 6 : England v South Africa, Chennai (0400)
Mar 6 : India v Ireland, Bangalore (0900)
Mar 7 : Kenya v Canada, New Delhi (0900)
Mar 8 : Pakistan v New Zealand, Pallekele (0900)
Mar 9 : India v Netherlands, New Delhi (0900)
Mar 10: Sri Lanka v Zimbabwe, Pallekele (0900)
Mar 11: West Indies v Ireland, Mohali (0400)
Mar 11: Bangladesh v England, Chittagong (0830)
Mar 12: India v South Africa, Nagpur (0900)
Mar 13: New Zealand v Canada, Mumbai (0400)
Mar 13: Australia v Kenya, Bangalore (0900)
Mar 14: Bangladesh v Netherlands, Chittagong (0330)
Mar 14: Pakistan v Zimbabwe, Pallekele (0900)
Mar 15: South Africa v Ireland, Kolkata (0900)
Mar 16: Australia v Canada, Bangalore (0900)
Mar 17: England v West Indies, Chennai (0900)
Mar 18: Ireland v Netherlands, Kolkata (0400)
Mar 18: Sri Lanka v New Zealand, Mumbai (0900)
Mar 19: Bangladesh v South Africa, Dhaka (0330)
Mar 19: Australia v Pakistan, Colombo (0900)
Mar 20: Zimbabwe v Kenya, Kolkata (0400)
Mar 20: India v West Indies, Chennai (0900)
Mar 23: First quarter-final, A1 v B4, Dhaka (0830)
Mar 24: Second quarter-final, A2 v B3, Ahmedabad (0900)
Mar 25: Third quarter-final, A3 v B2, Dhaka (0830)
Mar 26: Fourth quarter-final, A4 v B1, Colombo (0900)
Mar 29: First semi-final, Colombo (0900)
Mar 30: Second semi-final, Mohali (0900)
Apr 2 : Final, Mumbai (0900)
Follow Emirates 24|7 on Google News.