Botham and Vaughan mourn England hard man Close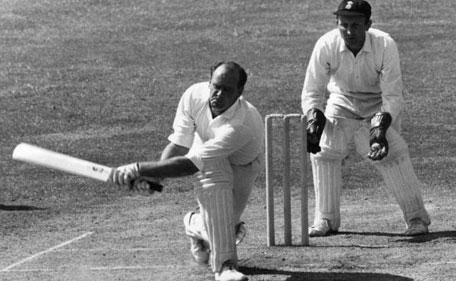 Former England captains Ian Botham and Michael Vaughan have led the tributes to Brian Close after the hard man of cricket died from lung cancer at the age of 84.

Yorkshireman Close was the young Botham's first county skipper at Somerset in the 1970s when the great all-rounder burst on to the scene with his good friend, swashbuckling West Indies batsman Viv Richards.

"The best captain a young player could ever have wished for! Myself & IVA (Richards) owe you so much," Botham said on his Twitter account on Monday.

Close, England's youngest ever Test cricketer and the man who had the courage to deliberately fend off bouncers from the fearsome 1976 West Indies pacemen with his chest, died on Sunday.

The batting all-rounder made his debut at the age of 18 against New Zealand in 1949 and went on to play 22 Tests, captaining England seven times.

"Such a sad day," said Vaughan. "He was a true inspiration to all of us. Thanks Brian for helping me as a kid growing up at Yorkshire.

"I once had an lbw problem. Closey, aged 60, came into the nets and batted without pads 'only way, young man, you will sort your problem'."

Close's autobiography 'I Don't Bruise Easily' typified his spirit.

Another Yorkshireman, former Test umpire Dickie Bird, recounted a familiar tale involving Close's fielding exploits at short leg before the invention of helmets.

"He'd take anybody on, he had no fear whatsoever," said Bird. "He used to field in front of the bat and was hit on the head once, I remember.

"The batsman pulled the ball, it hit him on the head and it flew to cover. Somebody dropped it and Brian's first words were, 'have you caught that?'."

Michael Holding was a member of the hostile attack that left bruises all over Close's body when the then 45-year-old took on the West Indies.

"He was someone who was very tough," said Holding. "When they called him back in 1976 he didn't say 'no, I'm an old man I can't do that'.

"He was willing to go out there and fight for his country."

Close's last Test innings, in the third match of the 1976 series at Manchester, is part of cricketing folklore.

He opened the batting with John Edrich and the pair put on 54 against the likes of Holding and Andy Roberts, fending off repeated short balls.
Follow Emirates 24|7 on Google News.