Cook ton vindicates Sobers' support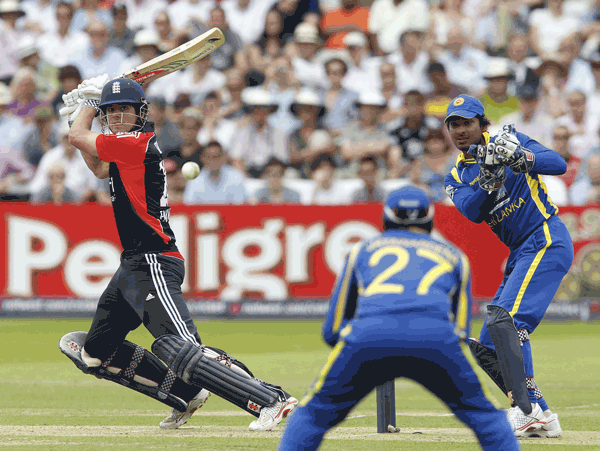 Cricket great Sir Garfield Sobers's belief in Alastair Cook's one-day ability was rewarded by the England batsman's century last weekend.
Cook is now one of the world's leading Test openers, but there are doubts as to whether he can score quickly enough in one-dayers.
It was a concern England's selectors shared until they appointed him one-day captain, having left him out of their squad for this year's World Cup, after Test skipper Andrew Strauss quit limited overs internationals.
Former England captain Michael Atherton labelled Cook "a plodder".
But Sobers, speaking just days before Cook made a hundred in England's six-wicket defeat by Sri Lanka in the third one-day international at Lord's on Sunday, was adamant the Essex left-hander could transfer his Test form into the shorter format.
"In one-day cricket, I don't agree with a lot of the scenarios people talk about," West Indies star Sobers told AFP in an interview at Derby's Cathedral Quarter Hotel, part of the Finesse Collection.
"I feel if you are a good cricketer at any class of cricket you should be able to adapt into any position," Sobers, widely regarded as cricket's greatest all-rounder, added.
"Alastair Cook can play as good as any one-day player," Sobers insisted.
When Cook was struggling for runs last year some critics called for England to drop him from their Test side.
But for Sobers, who has followed Cook's career closely ever since the Englishman appeared in a schoolboy tournament named after him in his native Barbados, the problem was clear.
"When Alastair was playing against Pakistan and wasn't getting any runs, he wasn't allowing the ball to come to him, he was reaching for it," explained Sobers, whose place in cricket history would have been assured by his brilliant left-handed batting alone.
"Since then he allowed the ball to come to him, simple as that. All of a sudden he started to let the ball come to him and started making a tremendous amount of runs.
"I don't see how you can hurt Alastair Cook's Test career by letting him play a few one-day games and see how he goes. If he doesn't go well, you drop him, but you know he's had a trial."
Sobers, a left-arm bowler capable of fast-medium, orthodox spin and wrist spin deliveries, appeared in just the lone one-day international match, against England in 1973, a year before he retired.
But all the evidence from his career suggests Sobers, who when playing for English county Nottinghamshire became the first batsman to hit six sixes in a first-class over, off Glamorgan's Malcolm Nash at Swansea in 1968, would have thrived in the format.
Sobers, the speaker at a dinner for the Rainbows Children's Hospice organised by Champions UK plc, where British popular singer Andy Abraham was also on the bill, said he disapproved of putting cricketers into 'boxes'.
He added Cook was in danger of being unfairly labelled, in the reverse of how former England left-handed batsman Neil Fairbrother found himself categorised as a one-day specialist back in the late 1980s and early 1990s.
"They were really unfair to Fairbrother," Sobers insisted.
"People brand a person too soon without giving them an opportunity to prove whether they are or not.
"It was the same with Fairbrother, why not give him two or three or four Tests, see how he goes and then come back and say 'he's only a one-day cricketer'?
"You can't brand a person without a trial just like you can't (fairly) sentence a person without a trial."
Follow Emirates 24|7 on Google News.