England are underdogs against Sri Lanka: Prior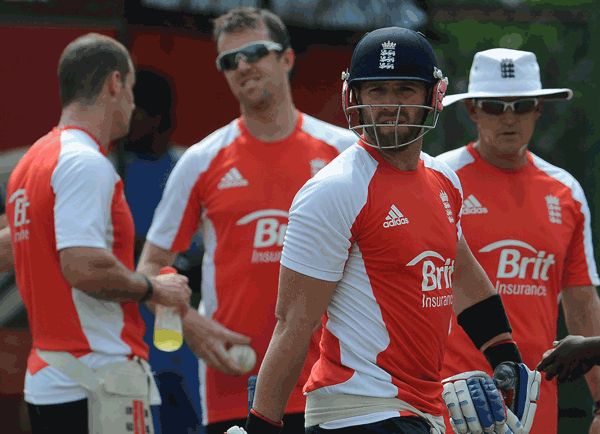 Matt Prior admitted England have not played their best cricket in the World Cup and will be underdogs in their quarter-final against Sri Lanka on Saturday.
England, who have never won the tournament, endured a rocky ride in the first round, losing to Ireland and Bangladesh but beating South Africa and battling to a tie against India.
They now face the 1996 champions Sri Lanka, and Prior admitted England have yet to hit top gear.
"We haven't played our best cricket by a long way, but we are still in the quarters," he said.
"We have not even got anywhere near what we can do so there will be no pressure and we go into the match as underdogs against a very strong Sri Lanka team."
But Prior believes that if England do well in all three departments, they will be tough to beat.
"If we do come out and play as a team and get all our three disciplines right, we are going to be very hard to beat. As a team we are in a fantastic place," said Prior.
The wicket-keeper added that the win over the West Indies at Chennai last week, which saved them from elimination, was a morale-booster.
"That win gave us a huge amount of belief and a huge amount of confidence," said Prior of the narrow 18-run victory.
"It showed that we will not be beaten easily. We have a huge amount of resilience, and a huge amount of fire in this group."
Prior said adding the World Cup to their Ashes triumph in Australia would cap a triumphant season for England.
"We came to win the World Cup, and if you leave this World Cup having not won it, you will be disappointed. You haven't achieved your goal.
The thing I would say is that we fought very, very hard as a unit.
"Every one knows that we haven't played well, but we are in a quarter-final, and anything can happen. We have got three games to win and we'll be world champions.
"To win the Ashes and the World Cup in a winter is something quite phenomenal."
Prior said he was enjoying opening the innings with skipper Andrew Strauss, a role he was handed when Kevin Pietersen was forced out of the tournament through injury.
"I am absolutely bewildered by it. When I was told I would be opening when KP went down, it wasn't a done decision for the whole tournament," said Prior who has just 56 runs in five innings so far.
"I think as a batter, as a unit, one of our major strengths is that we adapt very well to different teams, different conditions. I don't think any batsman in the top six or seven has a particular argument about where they'll bat."
Follow Emirates 24|7 on Google News.