Fan alert: Tendulkar to play on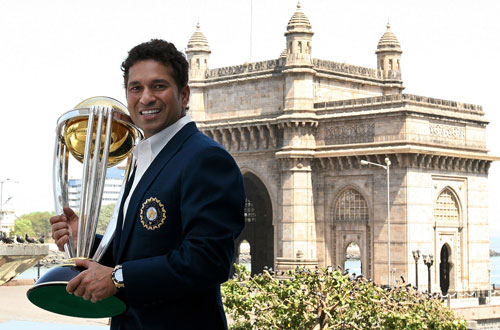 Indian batting superstar Sachin Tendulkar said on Monday he had no plans to retire after his World Cup triumph, but said the team would miss outgoing coach Gary Kirsten.
India regained the World Cup after 28 years with a six-wicket victory over Sri Lanka in the final in Mumbai on Saturday under former South African batsman Kirsten.
"Personally, I would say Gary (Kirsten) should continue but he has family commitments," Tendulkar told the NDTV.
"I respect his decision. We will miss him a lot. It's been a pleasure to work with him. He's probably worked harder than anyone else."
India not only secured the number-one ranking in Tests and number two in one-day internationals under Kirsten, but also became a formidable force both at home and away.
Tendulkar, the world's leading run scorer in both Tests (14,692) and one-day internationals (18,111), became a World Cup winner for the first time on his sixth and probably last appearance in the tournament.
He said winning the World Cup was his biggest cricketing moment and wished he could have shared it with his father.
"I miss my father. He would be proud. My kids being there for the victory lap made it even more special," said Tendulkar, whose father died during the 1999 World Cup, adding that he had no plans to retire.
"I can't believe we're the world champions. I am enjoying cricket too much to retire from any form of the game," said Tendulkar, who will turn 38 this month.
The master batsman rated Mahendra Singh Dhoni as the "best captain" for leading the team shrewdly in the high-pressure tournament.
"He (Dhoni) reads the situation well, is open to ideas and above all he stays calm and doesn't show frustration," Tendulkar said.
It was the second major title India had won under Dhoni after the World Twenty20 Championships in South Africa in 2007.
Tendulkar said India had peaked at the right time.
"In the knockout stage, we peaked at the right time. We batted, fielded and bowled well. You see effort from all players. Performance no one can guarantee, but effort you can guarantee," said Tendulkar.
India beat defending champions Australia in the quarter-finals and Pakistan in the semi-final before prevailing over Sri Lanka.
Follow Emirates 24|7 on Google News.