Four weeks, 42 matches, eight teams left standing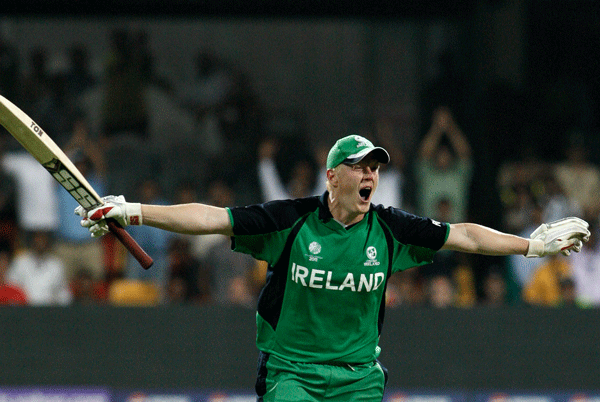 After four gruelling weeks, thousands of air miles clocked up and 42 matches played, the World Cup quarter-finals will still feature the world's eight top-ranked teams.
The first round, as expected, saw Bangladesh, Ireland, Netherlands, Zimbabwe, Canada and Kenya fall by the wayside with some hitting the ground more painfully than others.
But, in general, it was business as usual for the sport's elite sides and fuel for the International Cricket Council who will slash the 2015 World Cup to 10 teams from the 14 who started out on the sub-continent.
Ireland were the only associate nation to defy the odds when they pulled off a huge upset against England in Bangalore on the back of Kevin O'Brien's fastest ever World Cup century.
It didn't matter that England went on to lose to lowly Bangladesh or India were beaten by South Africa who in turn lost to England, the big beasts of cricket still made the quarter-finals their own.
Most of the action centred around Group B thanks mainly to England who unwittingly did the organisers a favour by infusing life into the tournament through their see-saw performances.
England were staring down the barrel after India whipped up a formidable 338 batting first but skipper Andrew Strauss struck a fine 158 as his team tied the game.
Ashes winners England then did the unthinkable by going down to Ireland despite making a huge 328.
Irish marauder O'Brien, with his hair dyed a shocking blend of pink and purple for a cancer charity, cracked the World Cup's fastest century off just 50 balls to achieve a memorable win.
"That's a long way the best innings I've ever played," said O'Brien, who smashed six sixes and 13 fours in his whirlwind 113 off 63 balls.
England regrouped from the Ireland disaster in time to stun South Africa in a low-scoring thriller before beig dumped by Bangladesh in front of screaming home fans.
Faced with a must-win situation against the West Indies, England were heading for another defeat only for replacements James Tredwell and Luke Wright to save the day.
"None of us wanted to go home in the morning, and we were very motivated to not let that happen," said Strauss.
"To bring Wright and Tredwell in for a massive game was a bit of a gamble. They stood up and delivered when it really counted."
India were plagued by inconsistent form and their dislike of the umpire review system.
"The adulteration of technology with human thinking," was skipper Mahendra Singh Dhoni's less than flattering appraisal of the system.
Injuries added to the woes of weary teams with many key players forced to cut back their participation.
West Indies lost Dwayne Bravo, Adrian Barath and Carlton Baugh while England packed Kevin Pietersen, Stuart Broad and Ajmal Shahzad off to the airport.
Champions Australia cruised quietly through the group stages before they lost their 34-match unbeaten World Cup run to Pakistan who played true to their unpredictable tag.
Maverick paceman Shoaib Akhtar hung up his boots, muddied by years of injury and controversies.
Fans turned out in huge numbers to cheer their home teams, but other venues were eerily empty as many first round matches failed to capture the imagination.
Follow Emirates 24|7 on Google News.