I didn't wilfully handle the ball against Australia - Stokes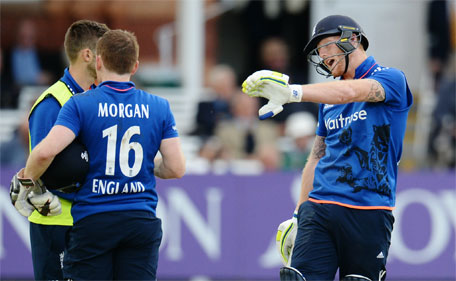 England all-rounder Ben Stokes has said he did not wilfully handle the ball that led to his controversial dismissal for "obstructing the field" in the second one-dayer against Australia on Saturday.

The 24-year-old became just the second England batsman after Len Hutton in 1951 to be given out for obstructing the field after paceman Mitchell Starc's shy at the stumps hit his left glove while he was out of his crease at Lord's.

TV umpire Joel Wilson's decision seemed harsh as Stokes appeared to be acting more in self-defence than trying to prevent being run out.

"I didn't put my hand there wilfully, it was purely out of human reaction to protect myself. But the decision was made, there's nothing I can do but it wasn't wilful whatsoever," Stokes was quoted as saying by the British media.

"It's one of those decisions where you can't look back and have any regrets because it's been made. You can't change what's happened. It's just a shame it came to the uproar it has," added Stokes, who is the first from England and sixth player overall to be dismissed for obstructing the field in a one-day international.

England were 141 for three and chasing 310. They ended up losing by 64 runs as Australia went 2-0 ahead in the five-match series.

England captain Eoin Morgan protested against the dismissal, leading to a heated exchange with his Australia counterpart, Steve Smith.

Stokes hoped no ill feeling would be carried over into the next match at Old Trafford on Tuesday.

"I hope (the incident) doesn't get turned into bad blood just out of that one little situation.

"But who knows, once I step over that line things might change. I hope it doesn't get blown out of proportion and takes away from the cricket side of things," he said.
Follow Emirates 24|7 on Google News.