India beat Holland by five wickets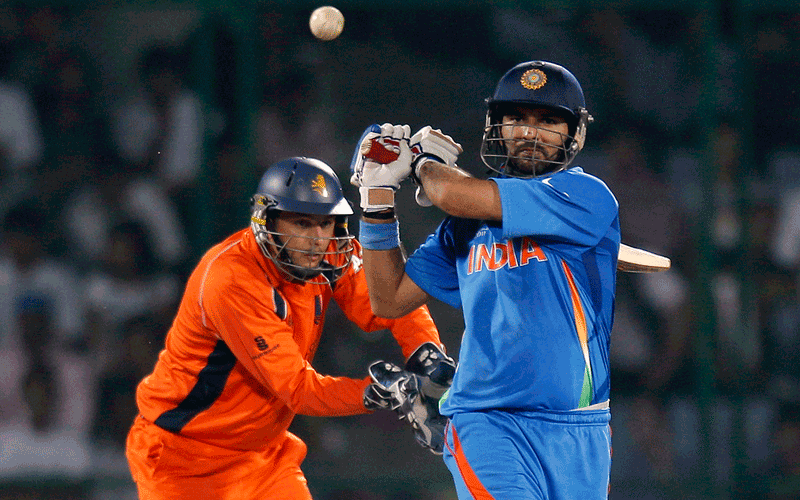 India overcame mid-innings hiccups to beat the Netherlands by five wickets in a Group B match on Wednesday to maintain their unbeaten run in the World Cup.
Chasing 190, Sachin Tendulkar (27) and Virender Sehwag (39) provided a brisk start before India lost five wickets and it took Yuvraj Singh's mature 51 not out to steer them home in 36.3 overs.
Opting to bat first, the Netherlands had earlier put 189 runs on boards before losing all their wickets in 46.4 overs at the near-capacity Feroz Shah Kotla Stadium.
Eric Szwarczynski (28) and Wesley Barresi (26) provided a sedate 56-run opening stand and down the order, captain Peter Borren (38 off 36 balls) came up with a desperate knock to push the score but the 200-mark eventually eluded them.
Netherlands:
E. Szwarczynski b Chawla 28
W. Barresi lbw b Yuvraj 26
T. Cooper c Dhoni b Nehra 29
R. ten Doeschate c Zaheer b Yuvraj 11
A. Kervezee c Harbhajan b Chawla 11
B. Zuiderent lbw b Zaheer 0
T. de Grooth run out 5
P. Borren c Nehra b Zaheer 38
B. Kruger run out 8
Mudassar Bukhari b Zaheer 21
P. Seelaar not out 0
Extras: (b6, lb3, w2, nb1) 12
Total (all out; 46.4 overs) 189
Fall of wickets: 1-56 (Szwarczynski), 2-64 (Barresi), 3-99 (ten Doeschate), 4-100 (Cooper), 5-101 (Zuiderent), 6-108 (de Grooth), 7-127 (Kervezee), 8-151 (Kruger), 9-189 (Borren), 10-189 (Bukhari).
Bowling: Zaheer 6.4-0-20-3, Nehra 5-1-22-1, Pathan 6-1-17-0, Harbhajan 10-0-31-0 (w2), Chawla 10-0-47-2 (nb1), Yuvraj 9-1-43-2.
India:
V. Sehwag c Kervezee b Seelaar 39
S. Tendulkar c Kruger b Seelaar 27
Y. Pathan c and b Seelaar 11
G. Gambhir b Bukhari 28
V. Kohli b Borren 12
Yuvraj Singh not out 51
MS Dhoni not out 19
Extras: (w4) 4
Total (for five wickets; 36.3 overs) 191
Fall of wickets: 1-69 (Sehwag), 2-80 (Tendulkar), 3-82 (Pathan), 4-99 (Kohli), 5-139 (Gambhir).
Bowling: Bukhari 6-1-33-1 (w2), ten Doeschate 7-0-38-0 (w2), Seelaar 10-1-53-3, Borren 8-0-33-1, Cooper 2-0-11-0, Kruger 3.3-0-23-0.
Result: India won by five wickets
Toss: Netherlands
Umpires: Steve Davis (AUS) and Bruce Oxenford (AUS)
TV umpire: Billy Doctrove (WIS)
Match referee: Ranjan Madugalle (SRI)
Follow Emirates 24|7 on Google News.