Indian media salute 'boys in blue'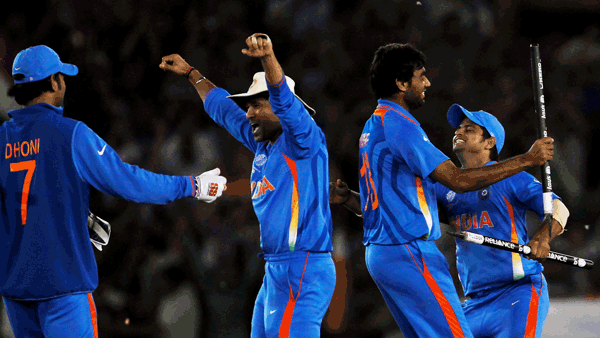 Indian newspapers splashed the country's triumph over bitter rival Pakistan in the World Cup semifinals across the front pages Thursday, applauding the game as an "epic showdown."
"After this... the Cup's a bonus," trumpeted the tabloid Mail Today, referring to the first all-Asian World Cup final against Sri Lanka in Mumbai that will be played on Saturday.
"The epic showdown between the arch rivals lives up to its billing as the match of the World Cup," the newspaper said after delirious celebrations at the Punjab Cricket stadium in the northern Indian town of Mohali.
In a match watched on TV by millions of passionate fans in both countries, India eclipsed Pakistan by 29 runs in an intense match that assumed political as well as sporting significance.
The countries' prime ministers watched the game together and held talks at the ground on improving their troubled cross-border relationship.
"Goodbye Pak, hello Mumbai," said the Pioneer, hailing the "good cricket and even better camaraderie" of the game.
Several of the newspapers printed stories and headlines in blue to match the Indian team's colours.
Pakistani media blamed butter-fingered fielding and poor batting for the team's defeat.
"Misbah-ul-Haq, Pakistan's would-be champion, cast a tragic figure as his team's World Cup campaign ended in a suffocating defeat at the hands of India," leading English newspaper Dawn said.
It blamed dropped catches, scratchy shots and Misbah's slow scoring for the defeat. Urdu language newspaper Jang was also critical of the team's performance and criticised the players' "dismal show".
But The News said "the overall performance of the team was much better than expected and (captain) Shahid Afridi rallied his troops brilliantly to take the team to the semi-finals."
"Our boys could not make it in the end but they fought like brave men and lost to a better side, which had the added advantage of playing at home before their cheering crowds," said the paper.
India's newspapers also paid tribute to Pakistan's performance.
The Hindustan Times declared "Pakistan will return home defeated but not bowed" after the team, hit by match-fixing charges and a poor run record, was given scant chance at the start of the tournament.
"The way they played and competed on Wednesday, they certainly leave with their heads held high," the paper said.
Follow Emirates 24|7 on Google News.