Lankan fans react: matchfixing on table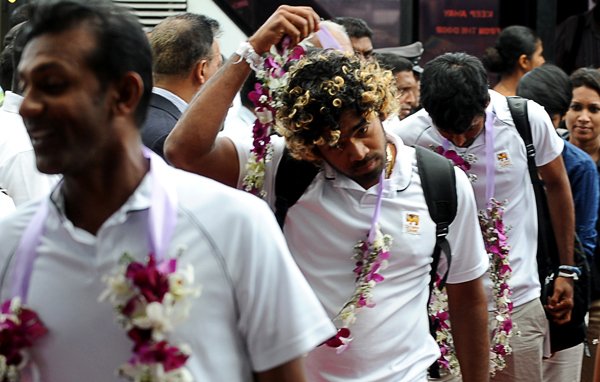 Sri Lankan cricket supporters were torn by the various factors that they see as contributing to the defeat of their national cricket team in the final of the ICC Cricket World Cup on Saturday in Mumbai, India.
In Colombo, Sri Lankan cricket fans came out in force to support their team in the World Cup final against India
With an angry and judgmental local press on side and the soothing consolation of the President of the country on the other, the die-hard cricketing nation seemed to be stuck in between.
The blame game began and this website has recorded hundreds of comments on reasons why the team lost.
Some of them range from the genuine – bad selection - to the bizarre, match-fixing.
While Sri Lanka's defeated cricket team returned home Sunday to calls from state-run media demanding a probe into "blunders right from the start".
Blessings were showered on Kumar Sangakkara's men in a religious ceremony after a red carpet welcome at Bandaranaike airport.
The cricketers, cheered by fans on the roadside, left in a motorcade for the city's Independence Square where they were welcomed with traditional dance and more flag-waving supporters.
Off-spinner Muttiah Muralitharan, the highest wicket-taker in tests and ODIs, retired from international cricket after Saturday's match and could not hide his frustration.
"(It was) a little bit disappointing because my main aim was to win the World Cup but unfortunately we couldn't do. India was a better side on the day," Muralitharan said.
"... we couldn't crack their side especially because in the middle part, spinners didn't take enough wickets. If I or Suraj (Randiv) took a few wickets then the story would have been different."
However, argument was still rife on Emirates24|7 with despondent fans refusing to let the match-fixing angle go.
One reader Majith lashed out: "Sangakkara sold the match. He should been investigated by ICC. This match was fixed. Politicians in in Sri Lanka are involved in this match fixing..."
King Dutugamunu added: "This match was fixed. end of story. if anyone has any doubts watch the match again and see how the SL players on the field and the guilt on the faces. Especially how Malinga walks back to his mark to start bowling. Sangakara's guilty face and no leadership display on the field."
And Paul adds: "Match was sold . After the first 2 wickets were gone instructions went out to bowl friendly balls. Not even the run rate dropped. Only one good bowl sent by mistake had Gautam out. Don't worry our boys will get more money than winning the game."
Then showing the divide on how the fans were handling the loss, cam comments of praise and justification.
Ekanayake says: "Well-Done boys! You have been wonderful right throughout the tournament. Yes we missed the Cup for the second time, but don't forget that India struggled 28 years to get there. Cheer up boys and start today. 2015 is ours. I don't think journalists could do anything better. Three hearty cheers to Sri Lankan team!"
To which Tilak Ratnasekera added, "I love SL cricket. They lost to the best team in the world. Please don't bring in unnecessary politics and try to show off that you could have selected a better side, not that I agree with the dropping of Mendis or Sanga not bringing Murali after Malinga's early success. Mahela was great. Yes it would have been a fitting finale to the greatest spin bowler Murali if we won. Let's start now to get the best for the next World Cup."
Needless to say it will be some time before the debate dies down.
ICC rubbishes match-fixing allegations
A media official of the International Cricket Council (ICC) James Fitzgerald when contacted by Emirates 24|7 refused to comment on allegations of match-fixing.
"We don't comment on speculation by the public after each and every match," he said from New Delhi.
Asked whether there had been any investigations of match fixing during this World Cup, he neither confirmed or denied.
"We are not allowed to comment on these matters," he said.
A veteran Sri Lankan journalist said the ICC had to get to the bottom of this. "Fans have a right to know the truth while players have a right to defend themselves," he told Emirates 24|7 from Colombo.
He also expressed surprise at the wholesale changes Sri Lankan made before the final. "Even when the side is losing they don't make changes but with one win away from the World Cup they bring in players from the cold," he said cynically.
"If you watched carefully did you see Muralitharan bowling a doosra during the final," he added.
There are reports that Sri Lanka's opener Upul Tharanga signed up for IPL team Chennai Super Kings on the eve of the World Cup.
A blogger on facebook blamed Sri Lanka skipper Kumar Sangakkara for the defeat.

Follow Emirates 24|7 on Google News.