Mahela considering legal action against TV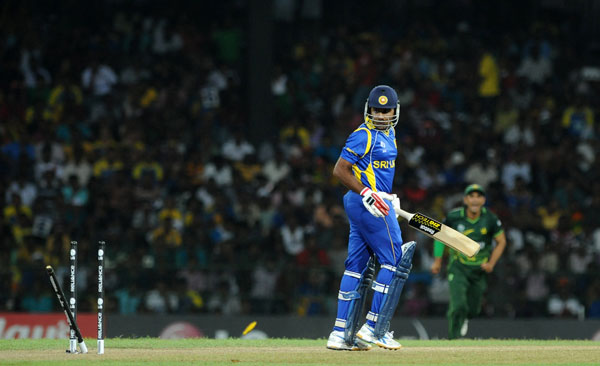 Sri Lanka batsman Mahela Jayawardene has taken legal advice over doubts raised on a state-run TV channel about the way he and another batsman performed in the World Cup defeat by Pakistan.
Sri Lanka, who are one of the favourites to win the tournament, lost Saturday's Pakistan game by 11 runs as Jayawardene and Thilan Samaraweera were out for just two runs and one run respectively when the team was trying to accelerate the run rate against the powerful Pakistan bowling.
State-owned Independent Television Network (ITN) in an analytical documentary aired on Sunday criticised several Sri Lankan players including Jayawardene and Samaraweera for their poor performance.
Jayawardene when asked about the allegations before the Kenya match said he had consulted his lawyers over the matter.
"The lawyers will decide what proper course of action should be taken," he told Reuters.
ITN also accused a businessman of betting Rs2 million ($18,053) on Pakistan's victory without giving any further details.
"We are treating the matter seriously," said Nishantha Ranatunga, the secretary of Sri Lanka Cricket.
The ITN in its 'Vimasuma' (inquiry) programme accused both Jayawardene and Samaraweera of changing the game, which otherwise Sri Lanka would have won.
"We are now in second thoughts whether Mahela and Thilan actually 'changed the game'," the narrator of the programme said, adding that if both had scored 30 runs together, Sri Lanka would have won.

Compared to other Asian neighbours, the 1996 World Cup champions have been relatively free from corruption and match-fixing scandals.
"People who make such allegations should be careful of what they say unless they have sufficient proof," Sri Lanka's team Anura Tennekoon said.
Last month, three Pakistan players were banned for a minimum of five years over allegations that they deliberately bowled no-balls (spot-fixing) against England last August.
That case has now been taken to sport's highest court of appeal, the Court of Arbitration for Sport (CAS).
The game's governing body, the International Cricket Council (ICC), told Reuters on Tuesday that each of the 49 matches at the World Cup were "to some extent" scrutinised by an anti-corruption unit.
A spokesman explained that unless the unit, which keeps its deliberations secret, planned action against a team or individual then the ICC itself would not be informed.
Malinga picks up second World Cup hat-trick
Sri Lanka's Lasith Malinga became the first man to pick up two hat-tricks in World Cups when he skittled out three Kenyan tail-enders in their Group A match on Tuesday.
Malinga, who missed his side's opening two matches with a sore back, fired back with 6-38 including the wickets of Tanmay Mishra (0), Peter Ongondo (0) and Shem Ngoche (0) with successive, full deliveries, the latter two clean bowled.
He finished with six for 38 as the Africans were dismissed for 142.
In 2007, Malinga grabbed four in a row against South Africa.
It is the second hat-trick of the 2011 World Cup after Kemar Roach took the last three Canadian wickets in West Indies' victory in Group B on Monday.
World Cup hat-tricks
1987: Chetan Sharma (India) v New Zealand (Ken Rutherford, Ian Smith, Ewen Chatfield) 1999: Saqlain Mushtaq (Pakistan) v Zimbabwe (Henry Olonga, Adam Huckle, Pommie Mbangwa)
2003: Chaminda Vaas (Sri Lanka) v Bangladesh (Hannan Sarkar, Mohammad Ashraful, Ehsanul Haque) 2003: Brett Lee (Australia) v Kenya (Kennedy Otieno, Brijal Patel, David Obuya)
2007: Lasith Malinga (Sri Lanka) v South Africa (Shaun Pollock, Andrew Hall, Jacques Kallis, Makhaya Ntini)*
2011: Kemar Roach (West Indies) v Netherlands (Pieter Seelaar, Bernard Loots, Berend Westdijk)
2011: Lasith Malinga (Sri Lanka) v Kenya (Tanmay Mishra, Peter Ongondo, Shem Ngoche)
* Malinga got four wickets in four balls
Scorecard
Kenya
M. Ouma lbw b Kulasekara 1
S. Waters lbw b Malinga 3
C. Obuya b Malinga 52
D. Obuya c Samaraweera b Muralitharan 51
S. Tikolo c Dilshan b Mathews 7
T. Mishra lbw b Malinga 0
J. Kamande run out 1
N. Odhiambo not out 8
P. Ongondo b Malinga 0
S. Ngoche b Malinga 0
E. Otieno b Malinga 0
Extras: (b1, lb6, nb3, w9) 19
Total: (all out; 43.4 overs) 142
Fall of wickets: 1-4 (Ouma), 2-8 (Waters), 3-102 (C. Obuya), 4-120 (Tikolo), 5-127 (D. Obuya), 6-128 (Kamande), 7-137 (Mishra), 8-137 (Ongondo), 9-137 (Ngoche), 10-142 (Otieno)
Bowling: Malinga 7.4-0-38-6 (nb3, w7), Kulasekara 9-1-18-1, Mathews 7-0-20-1 (w1), Mendis 9-2-23-0, Muralitharan 8-0-24-1, Silva 3-0-12-0 (w1)
Sri Lanka: Kumar Sangakkara (capt), Mahela Jayawardene, Upul Tharanga, Tillakaratne Dilshan, Thilan Samaraweera, Chamara Silva, Angelo Mathews, Nuwan Kulasekara, Lasith Malinga, Muttiah Muralitharan, Ajantha Mendis.
Toss: Kenya
Umpires: Tony Hill (NZL) and Shahvir Tarapore (IND)
TV umpire: Ian Gould (ENG)
Match referee: Chris Broad (ENG)
Follow Emirates 24|7 on Google News.